In Memoriam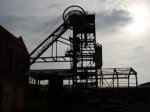 Mon, 01 Feb 2016
In Memoriam
Rarely has the property market been blessed with such a unique chance to acquire an entire ex mining community ripe for imaginative
redevelopment; back to back opportunities for both artisan community
housing reinvention and commercial pit head site reformation.
Nestling in rolling countryside twixt Grimethorpe and Barnsley, this five
hectare Eldorado will excite the entrepreneur with its links to a
pedigree that forged unbending personality and steely determination
into a wealth of gritty heritage. With no upper chain, this is an
iron clad development opportunity.
The substantial housing stock consists of sheltered ranks of cosy town
house properties, many boasting far reaching views beyond the pit
head gear. Open coal fires, stone flagged sculleries and quaint
outside amenities provide unlimited potential for sympathetic
upgrading. This is the place where demand for the comfort of cordial
community living could be further complemented by bespoke social
amenity.
The pit head site offers unlimited development potential for the creationof a social hub; a place where shopping, entertainment, socialising and learning could be both exciting and convivial. In short, here is a once in a lifetime opportunity to create from scratch, a place for utopian living, a place where all human desires can be fulfilled.
If you feel you could come to terms with such enormous and unique
potential, please contact the agent for more detailed discussion.
Offers...