Winter Journey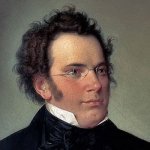 Thu, 24 Jun 2021
The winter of 1827 in Vienna was savage and relentless. Life in his tiny attic apartment had become almost unbearable as the cold gripped Viennese life like a vice. Schubert's tiny fire grate stood lifeless as the relentless cold drove him back into his bed in a desperate attempt to keep warm. The little money he had recently received for the first set of twelve Winter Journey songs had long gone. He was now without food, without heating and several weeks in arrears with his rent.
Franz Schubert's dear friend Vogel called to encourage him to set down his quill for a while, to join his many friends in the coffee house. After some persuasion he reluctantly agreed, so they set out for the Cafe Adler in the Marketplace. Here he found warmth and jollity, but his mind was tormented by the song he had been working on, harmonies bouncing from the walls of his creative genius, demanding to be set
free. Schubert did his best to relax, but his friends soon realised what was happening; they had seen this happen before. Vogel left the group for a brief conversation with the cafe owner, returned to the table with a quill, ink pot and paper and placed them down in front of his friend. Schubert smiled, picked up the quill, dipped it carefully into the ink pot and disappeared into himself.
The fascinated silence that had fallen around the table as Schubert set to work was abruptly shattered as the cafe door burst open and a blast of winter air heralded the arrival of Beethoven. Squat, gaunt, now totally deaf, Beethoven shuffled off into a corner completely oblivious of his surroundings, demanding coffee of the approaching
waiter. As the waiter scurried away, Beethoven dropped a pile of manuscripts onto his table, scowled and started peering at them through his eyeglass.
Vogel looked across the room at Beethoven, now totally immersed in his manuscripts, looked back at his friend Schubert, now similarly engrossed in a world of his own and smiled at his fellow witnesses. They all instinctively recognised an utterly unique moment in history when two of the greatest composers the world would ever know were sitting feet apart, total captives of their work; totally oblivious of each other. Unknown to everyone, both were beginning their final Winter Journeys.
Schubert had always been in awe of the great Beethoven, a man twenty seven
years his senior; known and revered throughout Europe for his great symphonies, piano compositions or ensemble works. As a boy, Schubert had studied Beethoven's scores and had been inspired to dedicate his own life to music. Schubert however, although adored by musical society in Vienna, had never experienced real commercial success as a composer until his mid twenties, but even then his publisher Diabelli had
cruelly taken advantage of his naïve disposition. The ruthless Diabelli had offered meagre sums for Schubert's work, knowing full well that he had little choice but to accept or starve. Schubert as ever, would continue to be supported by his faithful band of friends, allowing him to continue with his writing and his ever popular
musical evenings, known throughout Vienna as Schubertiads. Having filled his sheet of paper on both sides, the young genius looked up and smiled. The evening's amiable companionship could now continue into the early hours.
The following morning, wrapped in his heavy overcoat, Schubert set out on the two mile journey to his brother's house on the outskirts of the city. The roads were rutted, frozen and treacherous so progress was slow, but his mind was insulated against the conditions by the joy of new melodies emerging into his consciousness as he walked. He was still slightly hungover from the previous night's revelry, his mouth so dry he could hardly swallow, but the biting cold drove him forward as he neared his brother Ferdinand's house. Here he would find warmth, comfort and food.
As he entered the village he was greeted by the sound of a hurdy-gurdy being played on a street corner. A dishevelled old man stood slowly winding the instrument, surrounded by a group of children mesmerised by a magical haunting melody. Schubert, as enchanted as the children, stood listening with them until a huge smile lit up his face as the realisation struck him. Here was the inspiration for the final song of his latest endeavour. 'Hurdy-Gurdy Man' would complete his song cycle 'Winter Journey' and hopefully earn him the money he desperately needed to survive this cruellest of seasons.
He fumbled in the deep pockets of his winter coat finding a long forgotten one florin coin. The hurdy-gurdy man looked up as he approached, held out his begging cup and smiled. To Schubert's surprise, the cup was filled to the brim with water and for a moment he was taken aback. The old man's piercing blue eyes implored him to drink, radiating a strange reassurance that this moment was meant to be. Schubert took the cup from him, gratefully drained it of its refreshing content, dropped the florin coin into it and handed it back. The old man smiled as he began his hurdy-gurdy lament all over
again.
On the approach to his brother's house, a strange sensation passed through him. He stopped, turning to fix one final image of the hurdy-gurdy man in his mind, but amazingly, he had disappeared as if never there at all. Strangely unsettled, Schubert knocked loudly at his brother's door as the haunting melody took possession of his
mind.
The following day, Schubert wearily climbed the stairs to the second floor apartment of his publisher. It was yet another bitterly cold March morning, his threadbare clothing totally inadequate for such conditions. He had been unable to put the hurdy-gurdy incident out of his mind throughout the entire visit to his brother, hastily returning home that evening to work frantically through the night. He had been wholly possessed by the desire to commit his latest composition to manuscript and had taken no time for sleep or for food or for any other mortal pleasure. Though racked by the cold, his tiny frame had been cocooned from earthly trauma by an inner serenity; a
serenity he had been blessed with since birth. This tiny, insignificant and unkempt genius had again set his very soul to manuscript.
'My dear Schubert,' gasped Diabelli as he opened his door, 'you look absolutely dreadful. Come in; come in; set yourself by the fire.'
Schubert, more than grateful to do so, perched by the roaring log fire, taking an instant pleasure from its welcome heat. He set down his battered manuscript case against his feet and with a corner of his worn cravat, slowly began to cleanse his tiny rimless spectacles of their condensation.
'I see you bring me more of your heavenly music Franz. Dare I hope that you have completed the second twelve songs of your Winter Journey?'
Schubert slowly replaced his spectacles and stared into the fire, his frozen features now melting into a distant expression of absolute contentment. Sparks flew from a burning log and shattered his reverie.
'Herr Diabelli, my long and often painful Winter Journey is finally completed. I fear that I have said everything that our good Lord will permit.'
'Come to the pianoforte Franz and play your work through to me. My family would love to hear what you have written for us'
For a few moments Schubert remained where he was, transfixed by the log fire. Emerging from the flames were the piercing blue eyes of the hurdy-gurdy man. They weren't ordinary eyes, they were eyes that could search a man's soul; determine his destiny. Their meeting had been an inspiration, but somehow much more; a strange kind of kismet. Sparks suddenly exploded from the logs, shattering the reverie.
For the next thirty minutes Schubert played the second set of songs to the Diabelli family. They were enthralled; captivated by the new offering and the talent of its creator. Encouraged by their enthusiasm, Schubert boldly asked five hundred florins for his work. He left the Diabelli apartment with three.
The thought of having a fairly substantial sum in his pocket seemed to insulate Schubert from the cold as he navigated the frozen streets of Vienna. Turning the corner into the marketplace, he stopped dead in his tracks at the sound of the hurdy-gurdy man's lament drifting across the square. He scanned every corner, but to his amazement the old man was nowhere to be seen.
'Franz, there you are, I've been looking for you everywhere, gasped a familiar voice from behind. Have you heard the dreadful news? Maestro Beethoven is dead!'
Schubert spun round in surprise to face his good friend Schober, suddenly feeling faint. His legs began to buckle beneath him as Schober stepped forward in support. Realising that his shocking news had been too much for his friend, Schober took Schubert's arm as they staggered into a nearby tavern; taking a table by the fire. As Schubert slowly
recovered, Schober began to relay the details of Beethoven's recent illness and unexpected death, but as he spoke, Schubert's gaze slowly drifted past his friend towards a window with a view of the square.
'Can you hear the hurdy-gurdy Schober?'
Schober stopped in mid sentence, staring quizzically at his friend. 'What on earth are you talking about Franz? What hurdy-gurdy?
Schubert immediately began to tell Schober of his visit to his brother's house the previous day and the strange encounter with the hurdy-gurdy man. He told him of the haunting blue eyes, the totally unexpected cup of water offered to him and how the incident had driven him to work through the night to complete his Winter Journey song cycle. Schober sat in captivated silence, fascinated by the story, by the increasing
level of emotion being injected into it. Finally, the animated telling subsided as Schubert sank back against the settle. Schober smiled at his friend, but his eyes couldn't conceal their look of concern.
* * *
Three days later, Schubert woke feeling distinctly unwell. He felt nauseous and exhausted as he forced himself out of bed. Today was the day of Beethoven's funeral and he had the honour of being one of the torch bearers escorting the coffin from the church at Alsergrund to the cemetery at Wahring.
The great and good of Vienna were in attendance as thirty thousand onlookers lined the road to Wahring cemetery. Schubert, along side his fellow composers Hummel and Czerny, escorted the coffin to its resting place, observing due ceremony. As the last of the mourners drifted away, Schubert found himself alone, staring down at the coffin. For as long as he could remember he had revered Beethoven, loved his music, lived in the same city, but never having had the courage to introduce himself. Now he would never know if Beethoven had even known of his existence.
A violent stomach cramp suddenly seized him and he almost fell into the grave. He doubled over in extreme pain, gasping for breath, but it was some minutes before he was able to regain his composure. As he trudged across the cemetery towards the exit feeling distinctly unwell, he again heard the sound of the hurdy-gurdy man's lament. He spun round in surprise, but the cemetery contain only the dead.
Winter finally released it's grip on the city as Schubert's close circle of friends carried him through life with a never-ending round of social gatherings at the homes of wealthy Viennese society. His Winter Journey song cycle had been published to great acclaim and several other recent compositions had been warmly received. Schubert's health however, was as fragile as his income, resorting frequently to bouts of exhaustion and nausea, forcing him back to his bed for days on end. A year passed with Schubert's health remaining unchanged; indeed his health slowly became the cause of some real concern to his friends. They decided the services of one of Vienna's finest physicians was now imperative.
Following a thorough examination of his patient, Doctor Ernst Rinner sat at Schubert's small writing desk making notes in his well thumbed patient book. Turning to face Schubert, who was busily retying his cravat, he cleared his throat.
'Herr Schubert, you appear to have some of the symptoms of typhoid fever, although I am not entirely sure yet, as similar symptoms are found in a number of other maladies. Where do you obtain your drinking water may I ask?'
'From the house pump in the rear courtyard Herr Doctor, as do all the
occupants of these apartments.'
Rinner turned back to his book to make further notes before packing his medical bag. 'In that case we will allow mother nature the courtesy of a few more days before we make a firm diagnosis. If your symptoms persist, or indeed get any worse, then do not hesitate to call me.'
The following day, feeling distinctly unwell, Schubert set out for his brother's house in the hope that Ferdinand and his wife would allow him to stay for a few days until he recovered. His illness made the familiar journey long and painful; every step an effort. As he passed the street corner where he had encountered the hurdy-gurdy man, he
was struck by intense stomach pains, just like the ones he had suffered in the cemetery at Wahring.
For days Schubert lay desperately ill with violent headaches, fever and vomiting. Word soon spread of his predicament and his close circle of friends rushed to his bedside. For a while some improvement in his condition was made and his friends arranged for a string quartet to play in the house. Schubert chose to hear Beethoven's great C#minor quartet, falling into a reverie whilst uttering the words 'what more can ever be written.'
On the afternoon of the 19th November 1828, he suddenly awoke from a deep reverie, raising himself onto his elbows. He looked straight at his brother Ferdinand and smiled.
'Do you hear the hurdy-gurdy Ferdinand; do you hear it?'
Ferdinand mopped his brother's feverish brow with a cool cloth and eased him
back onto his pillows. With a look of utter contentment, Schubert slowly closed his eyes and died. He was thirty two years old.