GOD OF NOTHING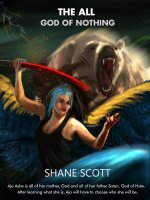 Tue, 28 Jul 2020
PART ONE
THE ALL
The only thing certain is it happened.
When it happened is less clear; sometime after yesterday or possibly before tomorrow.   But it did happen.
Chapter 1
Jaxx and Olivia
****
    A person will find their Next when least thinking about love and least expecting it. The event can happen to anyone, anywhere and at anytime.
    Next means "The one who walks never in front of you, never behind you, but always Next to you".
    This is far more than love at first sight.  At the moment of first interaction between Next an instantaneous, unbreakable connection to another Immortal soul is made, one that survives death.  
    A person will do anything possible for someone they love.  For their Next they can do the impossible.
    It cannot be explained further.  That is just how it works. It does not mean it will be easy.
Miranda, God of Knowledge
****
Photons spewed relentlessly by two suns, over the planet Gella, ended their fast hundred million mile journey crashing through numerous large windows and skylights. The arrival of the photons carried warm illumination to books, painting, sculptures and other priceless works of art, carefully collected from millions of different worlds.  Comfortable furniture scattered about the museum, and lack of ropes or barriers around the art, added to the peaceful, welcoming 'feel free to touch' aura.
Despite its cast size, only two people were in the museum, facing each other a meter apart.
The first, no longer a boy but yet not a man, ran his fingers through a mop of snow white hair.
The second, the Titan Miranda, God of Knowledge brushed her fingers lightly over the ejeka covering her left wrist and forearm, enjoying the feel of the exquisitely crafted silk and leather.  She recently stopped wearing an ejeka on both of her wrists and forearms, the reason why of significance.
"Who am I?" Seventeen year old Jaxx asked the Titan god Miranda.
"I can tell you what you are, but only you can choose who you are."  Miranda answered her voice soft and patient.
Jaxx groaned inwardly knowing Miranda's answer wasn't a bullshit philosophy.  She used precise words.
"OK, so what am I?" Jaxx mumbled.
"You are the fourth generation of the most powerful family of Immortals in God's ALL.  You are part God, Devil, Demon, Dragon, BOOL, Titan and mortal.  You are the only Dragon with a Demon heart."
Jaxx already knew that and came wanting answers to different questions he found hard to ask. 
Since first meeting Miranda at the ripe old age of five, when his parents were busy, and she offered to babysit him for the day, the two forged an unlikely friendship.  As he grew older, Jaxx' friends teased him for hanging out with the 'the smoking hot, know everything, Titan librarian' but that teasing had the opposite of the intended effect as Jaxx grew older, giving him insight to Miranda's isolation.
The Titan god Miranda welcomed any who wanted to visit her museum but few did. Not many were comfortable around or talking to a Know-It-All which described Miranda perfectly.
The third Titan created, Miranda was the historian of the ALL.  She couldn't read minds and didn't know what a person thought or felt and often didn't know why a person chose to do one thing over another, but she knew everything that happened in the ALL; every stupid, embarrassing, hateful, foolish, kinky or just plain dumb thing everyone did. If asked, she could answer exactly how many leaves were on a specific tree, on a specific planet at a specific moment in time. The knowledge might come to her immediately or take a day, or month, but eventually, Miranda knew.
The Titan god did not pass Judgment and never used her knowledge as a weapon nor did she tattletale on anyone. She didn't act like a Know-It-All, talking all the time, and Miranda was woman of ethics. She would never mention a person's secrets unless they spoke of them first.
Jaxx, pursed his lips in frustration, unable to understand why he had difficulty starting the conversation he wanted.  Over the years he discussed many private issues and feelings with Miranda. After discovering girls several years previously, he'd come straight to her with days worth of questions, each one she patiently answered.
Without doubt, she already knew what he recently did.
Miranda moved her thick braid of green, red and purple hair over her shoulder as she silently waited.
Jaxx met Miranda's light gray eyes, the only part of the Titan showing her incomprehensible age.
"But I'm not part Vampire?"
"No, Jaxx, not part Vampire."
Jaxx exhaled loudly, again running a hand through his hair.  The conversation he wanted felt different, more personal, from the many others he had with Miranda. He finally said, "I gave Olivia my blood."
Miranda smiled, nodding her head. "Yes. And?"
"I told Olivia I loved her."
"That is a nice thing to say."
When Jaxx did not respond Miranda continued, "It happens that way with your family, finding your Next, so quickly and always someone so different.  You are only a few years younger than your parents and the same age as your Grandparents."
"That bad, you think?"  Jaxx' grin contradicted his words.
Miranda slowly shook her head. "I don't think Jaxx, I know."
"Of course you do." Jaxx's smile grew bigger.
Miranda walked to a nearby chair but did not sit down, putting her hand on the backrest. "Do you want to know about your family or Vampires?"
Jaxx eyebrows furrowed and his lips scrunched around for several seconds before he shrugged his shoulders. "All of it.  Everything."
"Why don't you ask Olivia to join us?" Miranda suggested.
Jaxx turned his head slightly and held a brief, one sided, whispered conversation with someone not there. Turning back to Miranda he said, "I hollered to Olivia, she will be here in a minute."
Soon, a large, roiling, dense black cloud of smoke twisted and bubbled near Jaxx and a typical eighteen year old Vampire named Olivia stumbled out.
Olivia stopped chewing one of her already short fingernails, showing her tanned face, and smiled at Jaxx exposing two upper and two lower fangs.
"Hi Jaxx.  I have to get used to doing that." Olivia giggled, the blood red iris in her eyes slowly spinning.
The Vampire's right hand started nervously fiddling with the numerous religious symbols, from half a dozen cultures, hanging from the pure silver necklace she wore. After a few seconds her other hand pushed back a tangle of long, dirty blond hair from her face and chest, revealing the bold black letters on the front of her neon pink T-shirt that said, "Bite Me". 
Her earrings were in the shape of the Catholic cross, the right one, upside down.
Frowning, she turned to Miranda and her eyebrows creased. Olivia bowed slightly putting both hands in front of her, palms up. A battle line of blood started circling Olivia, a foot off the floor five feet away. "Uh, ummmm,  Miranda, God of Knowledge.....I, ummm, greet you?"
Miranda knew Olivia hadn't interacted with a Titan before nor was there any school, no lessons on majik or protocol for Immortals. Education was on the job training.
Miranda crossed Olivia's battle line and smiling warmly. "No conflict exists between us, that type of formality is not required.  It is so nice to finally meet you.  If it is acceptable, I will call you Olivia and you will call me Miranda."
"Uh, OK." Olivia glanced back and forth between Miranda and Jaxx as her battle line faded away.
Miranda took both of Olivia's hands and guided her to a large white leather couch. "You and Jaxx sit here together.  Take your shoes off and put your feet up.  This telling is extremely long. You will both need to return many times before we finish."  Miranda then told Olivia apologetically, "It will take us quite a while, and not today, before we get to Vampires."
Jaxx untied his hiking boots and flopped down on the sofa putting his feet up.  Miranda didn't tell guests to feel at home, she meant it.
Olivia toe-heeled her untied hi-top sneakers off and joined Jaxx on the couch, putting her back against his chest, and her legs and feet inside of his while possessively pulling his arms around her like a bandolier.
The heat pouring off Olivia's body, as if she had a raging fever surrounded Jaxx, warming him, a sensation he enjoyed. Like his father Sel, Jaxx sometimes found it hard to keep warm.
Olivia began biting another of her short fingernails.
Miranda asked, "Olivia why are you so uneasy being here?"
"Don't you know everything?" Olivia asked softly, not meeting the Titan god's eyes.
"I don't know what you are thinking or feeling.  You will have to tell me."
Olivia's blood eyes met those of the Titan and whispered, "I took Jaxx blood for my own. I'm going to become feral, unable to control my blood hunger. A monster.  Mum and Dad warned me all my life about giving into the blood hunger."
Miranda smiled sadly. "Yes, Vampires must control the blood hunger they feel. Taking another's blood will do what you say, slowly causing a Vampire to lose themselves." Miranda's voice filled with certainty. "But you didn't take Jaxx' blood, he gave it to you.  There is a difference and that difference will make you stronger, not weaker.  Considering whose blood you have claimed for your own it will make you more powerful than you can possibly imagine."
"I don't understand." Olivia continued to whisper.
Miranda nodded. "Most of the mortal races in God's ALL have stories, myths and legends about the Immortal races.  Most of those stories are wrong; even we Immortals, at times, get confused.  I promise you Olivia, you are in no danger of becoming like Born Dead."
"Won't claiming Jaxx's blood make everyone upset?"
"It will upset some of the Titans. We can be arrogant and petty.  Some, not many, believe as God's first we should be above all others."  Miranda grinned at the Vampire. "No one who matters will be upset though."
Miranda asked Jaxx with some admonishment, "Why have you not taken Olivia to meet your family."
Jaxx stuttered some but made no reply.
Miranda looked at Olivia with a puzzled expression. "Olivia, why are you afraid of meeting the family you are now part of?"
Olivia pulled Jaxx's arms around her tighter.  "Vampires come from Born Dead and they don't have souls.  I don't know if I have a soul."
Miranda's mouth opened but no words came out. She felt utterly astonished, a rare occurrence. Sitting down on the edge of the sofa she put her hand on Olivia's cheek, speaking with the compassion of a Titan god. "Oh, child, you have a spirit as bright as anyone.  You are not denied a soul because your heart does not beat."  Miranda stood up and said firmly, "If you have any doubts, I will holler to Memnoth this instant and bring him here. He will tell you the same."
Olivia blinked back tears. "Jaxx's family won't be upset he is with a Vampire?"
Miranda gave a small laugh. "His family might be upset you took so long to meet them, not that you are Vampire. Considering the history of Jaxx family it should have been expected."
"What if Jaxx turns Vampire?" Olivia slowly asked.
Miranda shook her head. "One bite or one thousand will not turn anyone Vampire.  Vampires come into the ALL the regular way, like you, they are born. A mortal can become Vampire through what is called 'The Offer' but that is rarely done."
The Titan god, Miranda winked at Olivia, finishing,"Just be careful who else you bite.  The toxins in your fangs will kill any mortal and be devastatingly painful for any Immortal except Jaxx."
"I know. Mum and Dad told me." Olivia shyly answered.
"You need also talk with Jaxx mother.  She will tell you to never be ashamed of what you are."
Olivia fidgeted, wanting Jaxx blood.  She didn't dare.
Miranda smiled knowingly. "It is true, you will now find your blood hunger impossible to control for a short time. You should feel to blood feed while here, now that you have, you must."
Still looking into Miranda's knowledgeable eyes, Olivia took Jaxx' hand and slowly sliced open the end of his pointer finger along one of her razor sharp fangs, keeping his finger in her mouth.  Immediately, the storm of Jaxx' blood crashed through the Vampire and she briefly closed her eyes as thinking became difficult for a few seconds.
After a minute Olivia used the back of her hand to wipe a trickle of blood from her lips. "You probably think that is disgusting."
"No, Olivia, I think it is beautiful." Miranda answered.
Olivia smiled at Miranda.  The Titan god wasn't what she expected.
Miranda considered where best to start. There were so many times, places, events and people she wanted to tell Jaxx and Olivia about, so much happened so quickly in the ALL.
"You need to forget everything you think you know and listen closely.  I am going to tell you the truth, how it all happened. Everything." 
She paused for a moment and smiled at Jaxx and Olivia. "There are currently six Immortal races in God's creation. Dragons and Titans are the oldest followed by Demons. The youngest are BOOL, Vampires and Angels."
Sitting down in an overstuffed high back chair, Miranda continued. "This story really starts with Jaxx' Grandmother, Aja Ashe, but first I want to tell you a little about Jaxx's parents and two mortals who became extremely important during the Second Celestial War.  Without those two, it might have ended differently." 
Miranda held up her ejeka covered left wrist and forearm, briefly pointing at Olivia's arms. "Along the way, I will explain the meaning of the ejekas you are wearing, and why you are doing it wrong."
Olivia couldn't help herself and asked, "Is it true, what people say Aja did?"
Miranda looked down and her eyes closed momentarily before answering, "Yes.  It is true, both the wondrous and terrible."
Olivia's eyes opened wide. "How could anyone do those things?"
"Because of what she is and who she chose to be."
The three of them remained silent for a minute then Miranda, God of Knowledge started telling Jaxx and Olivia about nothing and Everything.
"We begin, before the beginning."