The Age of Unseriousness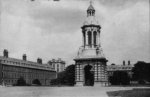 Mon, 06 Dec 2021
Oh, Una Hagerty.  So much you had to answer for.   Among wealthy old crones of the island, she commanded respect in her time despite being thoroughly disliked.  Her roots were in the Anglo-Irish landlord class but on most days Mrs Hagerty postured as a peasant woman, wearing frayed wools and a widow's black shawl (even before widowhood was official), regularly referring to herself as 'the old bag of bags', and instructing her grandson to use his gift of plenty to enjoy a life of fabulous diversion.  And it was from her came the notion of the New Man, a magician who would rise out of the past to fix the future in the present before it went 'all to pure pot'.  He may come as a guttersnipe, she would say.  Or a holy man, a general of men, or a skunk – we cannot know.  The older woman's preoccupations not only carried through to Elder's later life but this specific prediction also informed his present considerations.
By coincidence, magic was in vogue among the prosperous college-attending youth of the 1930s and although Elder wouldn't latch onto Mrs Hagerty's New Man prophecies until much later, he did lure many a young man at Trinity into joining his nightly séances and occult readings by dint of her blathering;  but the one who took to his ideas faster and gladly went under his dark wing was Gerard Higgins, Imogen's father, an intelligent and impressionable young man who played tennis, followed the song-writing achievements of Cole Porter, and collected cigarette holders; this all changed when he met Elder who helped reset those interests with a bend towards subversive politics and witchcraft.   
There was a performative sordidness in how the pair behaved in those years, a fine sordidness, which would have granted them an audience on the midnight stages of Soho if they had gravitated towards the arts as Imogen had.  Although neither would display homosexual tendencies outside of their own relationship, when in each other's company, the passions got the better of them and they engaged in sexual acts with great vigour all through college.  Elder would impress upon Gerard the mythic nature of their bond; they were Athis and Lycabas respectively, would go to the knees and weep for the other in death, then seek vengeance if such a thing was practical.  They indulged in criminal fantasies, as young men of fortune will do, plotting to burgle the National Gallery, to kidnap a local businessman, and planning to devise and patent the most polite and well-mannered murder in world history; but all of these plans and numerous others would have their bottle drained by close of term.  Their occult activities however went from strength to strength, and though being young they were given to blunders such as mispronounced incantations and unfortunately botched attempts at bloodletting, the spirit with which they conducted their regular games and ceremonies gave other college societies pause to decamp and re-evaluate. 
Such campus escapades were often fuelled by mistrust of administrations, particularly those precipitated by the crisply going Free State, offices of governance which were marked by periodic agitation and fluctuation.  Like many collegians of their age, both Elder and Higgins were locked in a bitter and shifting affair with their own country.  It should be well-known by now after a clump of centuries laden with letters, novels, declarations, deadly grievances, songs of insurrection, public displays of intoxicated nationalism, and both material and existential partitions that if ever a nation of people was concerned absolutely with identity it was the Irish.  And it was concern that could as quickly move to extreme fondness as to utter disdain.  Elder was especially the disdainful sort in his younger years, and this was why in the great contrarian tradition he later embarked on a political career. 
Their heroic alliance would go on into later life, even as they married wives and begot children; Elder went into politics, and Gerard to the law, though they would reconvene annually, usually on the eighth month as a point of fact, to discuss mutual business opportunities which never amounted to anything, much like the criminal enterprises of their youth.  But Elder, even in adulthood, would uphold the teachings of Una Hagerty.  As he matured, he soon learned to pronounce certain terminology with something nearing accuracy and so the incantations rose to slightly solider ground.  Her convictions would live on in his personal life even during his years as a senator but they would not become quotidian until after The Amiable Dottie Cox scandal and his departure from the Seanad.  In the months after his resignation he devoted himself to editing his first book, The Dignity of Fools, which he had been working on for twenty years and which drew on his grandmother's esoteric beliefs, the teachings of Prannoy Krishnappa, and his own life experiences; the book was a blueprint for what would become the Kindred Eye.  In it he spoke of the unseriousness of contemporary life.
Only the most unserious men find success today, and though some serious ones might achieve good things, they will eventually go to the hounds, for their elegance and for the weight of their ideas.  This is the age of unseriousness.  When other beings arrive, they will be repulsed by this unseriousness in our society and should probably wave at us to go on our merry unserious ways.    For that reason, I believe we should all be lobotomised politically, for the sake of the children.
Of the New Man
The New Man will not be short – not in temper, intelligence, nor height.  He will exist in the space between land and sky, mind and body. 
And relationships
The wife, the husband, the mother, the brother – these are connections we know as persisting, in almost all cases.  Others such as colleague, neighbour, comrade are ever-changing, are more often than not only temporary.  However, one might employ techniques such as corruption in one's associations to maintain some consistence and familiarity in the heads we are given to nod before.  It should be no crime to grease a palm if one's palm is too greasy already, and another's too dry, and if in the end a great communion of minds comes about. 
Image: Wikimedia Commons