Brother Samuel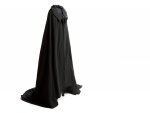 Sat, 21 Mar 2020
2 likes
--You can come in now.
So I go in.  Though I struggle because it's a really big and heavy doorknob, not like any doorknob I've ever had to turn in me life.  Eventually I get it and the door opens and there's Brudder Samule sitting at his desk writing something.  He doesn't look at me.
--Shut the door, he says.
I do.  I shut it and in my head it locks by itself like a computer door.
--What's your business here, scallywag?
--Mr. O'Hare told me to come see ya, Brudder Samule.
--Oh, he did, did he?  And why did he tell you to do that?
I go quiet.  I'm holding behind my back the reason why Mr. O'Hare told me to go to Brudder Samule's office and I'm in no hurry to reveal it.
What it is is an English buk with a grammur exercise we wur doing in class.  De tenses and de verbs.  You're supposed to fill in de correct verb.
One day, John was farting in his bedroom when he heard his mother farting his name.  He farted back to her, then continued farting happily in his room.  He liked to fart everyday in his bedroom.
It's true to say that fart was not the right verb for the story.  There was a choice of other verbs in a box you were supposed to use, but I just put the word fart in there for a laff and showed the boys beside me.  As it goes, Mr. O'Hare caught me.  He came over and picked up the buk just as I was sliding it over to Kevin Muckian to have a luk.  Normally, O'Hare slaps me across de head when I do something wrong, but today he sends me to Brudder Samule's office instead.  It's not my day at all.
  --What have you got in your hands? says Samule. Show it to me.
I move toward his desk and put the schoolbuk down for him to see.  Then I stand back.
--Don't move! He says.
So I just stand there frozen on the spot.
He reads through the exercise.  Out the window of his office, I can hear people walking past.  I wish so much I was one of those people right now.  Just walking.  To anywhere.
 --An unfortunate distortion of language, he says.
--But if ya luk, ye'll see de grammur's right, Brudder.  Lookit. 
--SILENCE, YOU LITTLE SAUSAGE!
The protest goes nowhere.  Like me.  Not going nowhere.
Frozen.
Brudder Samule slowly gets up from his feet.  He looks down at the farts again.  His face is going so red I think it might blow up like yer man at de end of Big Trouble In Little China.  It's mad that farts could do this to a man.  I mean, it's not like I sed I'd ride his wife even though I know he hasn't got one and isn't allowed one.  That doesn't matter.   I'm in big trouble, I sure am.
I've heard about the metre stick.  The one he uses to deal out his batings.  I've seen dem before.  O'Hare has one.  But Samule's is sed to be de finishing device.
I don't wanna see his metre stick.  But I do.  He goes to the cupboard and there it is.  There doesn't seem to be anything else in that cupboard.  It's all black inside when he opens it.  And it's a huge cupboard. 
He slowly walks around me.  I'm like a statue.  In de fillums, Death wears a black robe like de brudders and Samule has the look of him when he turns up ta nab yer soul.  I can feel him standing behind me.  I've never felt Death's breath but it must be like Samule's, steaming hot like the kettle but putrid smelling like yer mudder's gin.
--HOLD STILL, SCALLYWAG!
I've been holding still for the last half hour.  Can't he see dat?
Then comes the first belt with the stick.    
The pain is somethin awful.  Like my legs are burning off.  I can feel me skin peel under there.  And scars are born, scars I'll have an feel to de end of me days.
He only whips four times but it feels like forty cuz time slows between whips.
Me eyes are all wet with tears, but I'm not crying.  Weerd, I've cried for far less.  I'm known for my crying in town.  But not today.  Weerd.
 --NOW GET OUT OF HERE, he says.  AND I DON'T WANT TO SEE YOU HERE AGAIN, YOU LITTLE SAUSAGE.
All because of a few farts.
He gives me back my schoolbuk and I limp to the door and get out and the cold corridor air has never felt so bloody good.  I walk back to class.  Along the way, I look at some of the old pictures on the walls of the past pupils.  Not one of them look at all happy lined up for the photos.  Next time they take a picture of me I won't be happy either.
I wonder if there'll ever come a day when de brudders get their own comeuppance for bating the heads of us all.  And taking out der metre sticks.  It's not likely, but a lad can dream, and dream a lad will.