On the Floor of Connolly Station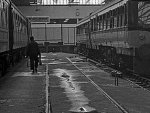 Wed, 21 Apr 2021
CRISPIN:  Littlebourne.
IMOGEN:  And where's that?
CRISPIN:  Near Canterbury.
IMOGEN: Oh, I know Canterbury.
CRISPIN:  Yes, most people do.
SULLIVAN:  I don't.
IMOGEN:  Was it a big change coming here? 
CRISPIN:  Not entirely.  Not where we are at present.  I'm sure there are other parts of the island where I might find it harder to fit in.
SULLIVAN: Cavan.
IMOGEN: Why is it easier to fit in here?
CRISPIN: Although we come from different worlds outside, there are common values we all share. 
IMOGEN: But doesn't depoliticisation mean you would have to deprogram some of those values?
CRISPIN: Not at all.  We shake off only the political darbies of wider society, all those trivial points of view that land us in ghastly contests of power.  I would say our values are more innate and universal and gentle.  Here we are all on the same page when it comes to basic human dignity. (Pause) You're very beautiful, by the way.  Like a pin-up.  Sorry.
IMOGEN:  Thank you.  I wonder why you would need to come to a place like this.  It seems to me you are a successful person in the world.  Shouldn't you be out there releasing albums, playing concerts, appearing in Peter Sellers films, doing interviews...  
CRISPIN:  This is an interview.
IMOGEN:  You know what I mean.
CRISPIN:  My career is undergoing a resting period.  That is all I will say on the matter. 
SULLIVAN:  He still writes some good songs.
CRISPIN: Thank you, my afflicted friend.
IMOGEN: (to Sullivan) And how did you come to be here?
SULLIVAN: Well, as the eminent Mr. Collins just said, I have an affliction.  I don't think I'd have gotten in the door if Elder hadn't seen me lying on the floor of Connolly Station in an awful state some months ago.  He picked me up.  And he brought me here.  But if that hadn't happened, I don't know if I would be here at all.  I'm not a natural addition to the group.  Class-wise, I have some shortcomings compared to the rest of them and that's no exaggeration.  They're teaching me all new ways to behave here.
Crispin Collins squirmed a little, unnerved.
CRISPIN: Elder has established a fabulously accepting place.  Under this roof, we are all equal in allotment.
IMOGEN:   And – I hope you don't mind me asking – but how much does it cost financially to be here? 
CRISPIN:  (furtively) That is something I would rather not talk about.  We give as we are able to here.  That is all I will say on the matter.
ELDER: Wait.
KNOX: What?
ELDER: Pull back a bit.  Try to have both of them in the shot.
KNOX:  You mean the three of them?
ELDER: Well, most of all make sure Imogen is a focal point.  We can cut in shots of any other participants after, can't we?
KNOX: I suppose.  It's more work.  But you're paying me so...
ELDER:  That is correct.
Image: Wikimedia Commons