A Grand Place For His Kind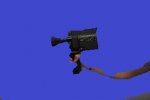 Wed, 22 Jun 2022
Devin allowed the resurging hallucinations to continue undisturbed as it would only lead him to offer allusions which would no doubt cause him some embarrassment in front of the others.  Also, he felt proud of himself as he appeared to be getting the visions somewhat under control, or managing to parse the real from the dreamt up, as if now an enlightened drug-taker.  For instance, the moth in Imogen's hair: yes.  But had MacKenna's head become a moth: no.  The pig's kind of red eyes: yes.  But the UFO hovering above them: no.  And when Elder and the others eventually made it across the bog, at first he thought Moloney was wielding in his hands one of those bone-looking alligators, holding it up, waving the poor reptile about, until Ah-ha, he thought, that's not an alligator, it's the shotgun.  He knew because he had held the thing himself earlier – he had a good sense of how it was to fit in a pair of hands.
As the farmer came closer, prowling in the mud, it seemed he was aiming the firearm at the bog man.   
          Don't shoot, you fool, he means no harm, yelled MacKenna. 
But Devin could see that Moloney was probably not going to shoot.  There was apprehension in his face.  He gave the impression he was ready to pull the trigger, but not necessarily inclined to, or in a mood to.  Commonsense behind the lunatic front. 
Sullivan and Abby Kane appeared behind Moloney; they both looked knackered, whereas Elder marching ahead of them had that bizarre director's energy once more, excitedly pointing out various spots Knox should go for pick-ups.  His pace reduced when near the ditch, and when face to face with the resurrected being the former senator beamed and gawked and slapped his thighs and wagged his tongue and howled and wept with reverence.  
          Welcome. . .back, he said.
          Well, it might not be for long, said MacKenna.  He means to return to the bog.  I've been trying to convince him that the museum is a grand place for his kind but he doesn't seem to be interested.
          He spoke to you?
          He is speaking now.  Can you not hear him. 
          I can't hear a thing.
          No?  Listen again. 
          Nothing.
          He's in our heads.  Some kind of telepathy I think.
          How does he sound?
          He's as sesquipedalian as yourself, perhaps more so. 
          That's simply not fair.  I've spent my whole life in communion with the spirits, pursuing – with no bad grace mind – answers to the most fundamental mysteries.  I deserve more than the cold shoulder.
          If you ask me, it's only right for a charlatan like yourself, said Moloney under his breath.
Jeremiah Stewart offered some words of support for Elder.
          It might be your hearing.
          My hearing?  Poppincock! I'm not on the deathbed yet, Stewart.  My competencies show no signs of surrendering just yet.  You'd do well to reflect on your own well-being.
          What I mean to say is it must be a mix-up if you can't hear his voice.  I would not say he is singling you out.  For he called the whole lot of us sinners before.
          Well, he's not wrong, said Elder.
          He is correct.
          He just said you're correct, MacKenna, restating the extrasensory assertion.
          And he's not wrong there either.
          Why can't he hear you?
          The network is outside of my control.
          What did he say?
          He wants to kick you up the hole, said Moloney.
          I doubt he said that.
          I have not sinned, said Everly Stewart.
          Nor me, said her husband.  Jeremiah noticed Devin assigning him a look of such dubiety.  What's that look?  You have more to repent for yourself with your appeals to rage.  If you mean to imply my wife and I are sinful in our practices, then I suggest you look your own relationship in the mirror.
          Leave us out of it, said Devin. 
          Damn right, said Imogen.
Moloney stepped up to Elder.  That legendary glower on his face.
          Has it not dawned on you that our man and the land have had it up to here with you and your band of wasters?  It was only a matter of time.  I'm glad he woke up to give you a scare.  I told you so, didn't I?  If it's sin he's going on about, I'd say he means all your messing round these parts.  Digging things up you shouldn't for your own bloody amusement, scoffing all the funguses you can find for the cheap high. 
            I wouldn't mind, Moloney, but you're not one to talk – whereabouts in this fine place here did you execute your Da, by the way?
            Said MacKenna then, we may well have overreached in bringing so much of that strange berry back.  I mean, if it's the life-giver we truly believe it is, we could have been more prudent in the dispensing instead of adding it to every nip and morsel.  And then, you know, the spells. . .
            What spells? asked Abby Kane.
            Ah give over!  I might have recited an incantation or two.  But what of it?  You were all glad of the headspace it allowed you.  That's why you're here, isn't it?  Yous can take comfort in knowing it wasn't some other spell or substance, for if I'd had the mind I might have had you all shitting and pissing yourselves.
            But that would have made quite a mess at the house, said Imogen, with her waspishness.  God knows you've more respect for your manor than that.  Ahem.
            I didn't sign up to be experimented on, said Abby.
            I suppose I did, said Sullivan, miserably.  I would like to have been a success though.
            Sullivan, good man, you were once such a joyous fellow, why such a droopy-pooper now?  We welcomed you into the fold.  You were a pile on the floor at Connolly Station.  And now here you are on your two feet again, riddled with the electrical disease perhaps, but doing well.   
Knox stood to the right and kept the camera focused on the bog man.  But it was difficult.  Not only was he worn out and top to bottom stoned, but the ground below him was no station for a shutterbug with any sense.  The images he obtained were bound to be shaky as though filmed from the Aran Island ferry.      
The bog man, who had barely moved since approaching them at the ditch, had a sense the young Galway man was behind setting up a shot.  He turned and cocked his head about 30 degrees. 
Knox froze. 
Peed his pants very nearly. 
            By what means are you observing me?
            It's a Canon Canosound 514, said Knox.  Top notch.  Not mine though, it belongs to him.
            What. . . you can hear him too? grumbled Elder.  This is not on.
Suddenly Knox yelped.  The camera fell from his hands. 
            Careful, Knox, you dope.  That's hundreds of pounds worth of equipment. 
            It got really hot.  I near burnt my paws off.
The camera had landed on a particularly soft patch.  Sure enough, it looked hot, there were sparks coming off it and its long grip glowed like a poker recently fire-rested.  Knox slouched away in fear.
            Will you pick the thing up, Knox. 
            I won't.  He's put some flavour of curse on it. 
The camera sunk into the wet turf, buzzing and crackling as it went.  When Elder saw that Knox was incapable of doing anything, he swung into action himself, hopping cautiously over the pits to rescue his perishing gadget, but by the time he got there the camera had disappeared entirely.
            Are we to make do with only the mangy footage that's back in the house?  All the best stuff's in that contraption.
            My sincerest apologies, boss.
Elder knelt down and carefully patted the ground.  A quick yammer.  Then he dipped his hand into the sod and had a feel around for the camera. 
            Too far down, he said.  Now that snowy white beard of his became speckled with mud as his head went lower and his arm reached deeper into the swamp.  No-one there had ever seen Elder look so dirty before.  That beard was always immaculate.