Grimur Passer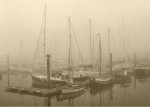 Sun, 24 Feb 2019
1 likes
Dolores Costello was greeted in the port of Torshavn by four pilot whales that had been lined up along the gangway, butchered, whilst over them a crew of five stood – arm-in-arm and smiling – and their boots were sodden with blood and hacked blubber as a local photographer snapped away in front of them.   The horror of this picture for Dolores' passengers was however no match for the one felt by those residents of Torshavn who had spotted the boat that was heading towards their little town loaded up with Irish priests, ominous-looking; many blessed themselves and a few produced rosary beads.
'Oh, they use rosary beads, these Lutherans?' asked Stinson.
'Yes,' said Geissel.  'Sure they're all copying us.  Even the Hindus and Buddhists and who knows who else?  It's no mystery what they're up to.'
 Dusk.  But the region's famous mists were writhing over the town and clogging up the sunset.  By the time of mooring, the fog had enveloped Dolores almost entirely and the wharf was hidden from them.  The whalers they had just seen, and the marina, the rosary beads, and the town itself had all disappeared. 'Well, this is a fine welcome,' remarked Geissel in the haze.  As he spoke, a man emerged from the fog – a rotund man with an orange raincoat and a beard bushier than Masterson's and greyer.  He seemed to have been waiting for them.  'Fuggal,' the man shouted.  The priests looked at one another perplexed.  'Fuggal,' the man cried out again.  Captain Littlewood, who was cleating the mooring line, heard the man and guessed it might well have been Grimur Passer come to welcome them.
'Grimur?  Grimur Passer?' he said.
'Yes, it's me.  Fuggal?'
'Fergal, yes.'
'So you're Littlewood II?  I'm glad you have landed.  Littlewood I's letter arrived only three days ago.  Dated two months back.  The post here is slow.  You have grown since last I saw you.'
'Oh, I've met you before?' said Littlewood, curiously.
'Yes, maybe twenty years gone.  Back then, this belly wasn't so round.'
Littlewood was 15 years old when he and his father had first visited the Faroes.  They were far out in the gulf stream on a small trawler with four others.  The boat got trapped somewhere between Iceland and the Faroes when they were hit by rapid swell; and they lay engineless and exposed in the sea for half a day, severely damaged, with the North Atlantic Drift piling up on them.   Luckily they were happened upon by some Faroese fishermen who towed them to the islands and offered maintenance and repair.  Grimur Passer had been one of those fishermen, but Littewood's memory hadn't recorded him.  Strong images remained of the Faroese landscapes, and especially the food he was given (simply dry fish and potatoes but being so hungry and relieved at the time it was a dry fish and potato meal he would never forget), but surprisingly he had little memory of the islanders.  They were just like Irish seamen, and he'd encountered so many of them over the years that they'd all combined as one giant choleric scruffbag in his mind.  He modelled himself after that giant choleric scruffbag.
'Torshavn is our Copenhagen,' said Grimur Passer, once the wayfarers' feet reached the platform.  We have everything they have, except the fancy palaces.  And our beautiful fish girls are real.'
'Mermaids?' asked Stinson, excitedly.
'No, fish girls.  They're flesh and blood here.  Not slabs of beaten stone.'  Passer revealed a large electric torch and flicking a switch he shone a path through the murk for them.  'So we should get you back to the house and you can meet Mrs. Passer.  She's made a stew.'
'Puffin stew?' enquired Geissel.
'No, sheep,' said Passer.
'Oh, fine,' said Geissel.  'That's okay.  I'm fine with sheep stew.'
'Well, you should be able to find a bowl of it in the hotel.  But you won't be having any of Mrs. Passer's.  In fact, you won't be setting foot in the Passer home at all.'
'Why not?' asked Stinson, shocked.
'I don't want to be impolite,' said Passer.  'But frankly, your kind is not wanted there.  But Fuggal is welcome.  More than welcome.  Don't worry, we'll get you acolytes set up somewhere nice.  Where they'll serve you good sheep too.'
A feeling of ostracisation could be seen in Fathers Geissel and Stinson, a feeling they were unused to having in their homeland considering the high esteem their vocations compelled, but Masterson showed a tilted smile, which married a degree of hostility towards Grimur Passer with some appreciation for his candour.
'Oh, and I should remind you as you enter our little town,' Passer began.  'Right now, we have some strange people from the mainland visiting.  They are not islanders.  You should be wary of them.'
'Strange?  How so?' asked Stinson.
'Strange as in not like any of us.  Though perhaps less so next to you papalists.'