Ice House Hill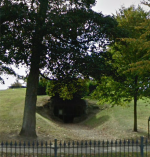 Tue, 24 Mar 2020
6pm.  We're skipping teatime tonight and knocking about on Ice House Hill - that's Dixon, McGurk and meself.  It's chilly, but no sweat because the sky is juddering red and the trees are like orange mushrooms in de light, big and hairy like the ones you get in the fields in September.  It's September now.  So that makes sense. 
Ice House Hill's a good place to go, whether mitching from school or not.  We weren't mitching today.  It's the first week back.  We should get a few days in before the mitching starts. 
It's called Ice House Hill by some, but we call it de Woods because it's the woodiest place we have near us.  There's the entrance to a little cave there, the ice cave, but it doesn't go far annymore.  You go in and you hit a wall.  And there's definitely no trace of ice around.  It's like a little stone hut now, looks like Bilbo Baggins's hobbit-hole.  We're often there jumping off the roof.  That's what we're at when Rory and Ethel Prior show up, along with their friends, two gerls I don't know, a blondie and a brownie.
--Be careful dere, ye'll break yer holes, says Rory Prior.  He's some boy.  Only about a year older than the rest of us but he acts like an oul man.  He's in training to be a prefect in the big school.
--Ah, fuck away off, says McGurk.
--Yoo watch yerself, hay, growls Ethel.
I know Ethel Prior likes me, from the way she luks at me.  And also because Lorraine Curtin who lives a few doors down says that Ethel is most surely inta me.  But I don't know, she's too tall, I tink, gangly tall.  And she has these big buck-teeth that I swear would give annyone pause.
Ethel's famous for kicking fellas in the nuts.  She's kicked McGurk in the nuts before.  But the way she looks at me, I think she might not kick me in the nuts.  She might just kick me up the arse instead, just to be kind.  But I won't be testing her annytime soon.
Ethel and Rory's mudder is said to be in the RA.  She's a fierce-looking woman, has de look a dem – what do dey call dem – fem fatalees.  You always see her walking around town with the Republican News proudly tucked under her arm – ah, buying the Republican News is no big deal in this town – but there's a rumour that the reason they have no fadder around is because he was put away for making boms.  Nobody has the guts to ask either of them if that's true – for fear of getting a kick in the nuts. 
(I read Dracula there over the summer and when I read the bit where Jonathan Harker meets the vampire brides I imagined they all looked like Mrs. Prior.  I love Dracula now.  It's my favourite buk.)
--I'm oney lukin out for yiz, says Rory.
--Ye'll make a great prefect one day, Rory, laughs Dixon.
--I agree, says McGurk.
--Well, we all have our fewtchers ta luk forward to, says Rory.
Ethel rolls her eyes.  It's like she's heard it all before from her brudder.  Mad: one minute she's lookin out for him, the next she's rollin her eyes. 
--Ye get the new 2000AD, Rory? Asks McGurk.
--I did.  It's deadly, isnit?
--Aw yeah.
We all know McGurk hates Rory Prior because Rory's better at drawing than he is.  He can draw a much better Judge Dredd than McGurk.  They used to be good friends, the two of them.  But now it's different.  Now McGurk can't stand Rory.
 --Did ye enter the Credit Union drawing competition, McGurk?
--Eh, no, I didn't.  Did you?
--Not yet but I will, answers Rory.  I plan to do me drawing next week.  Yoo shud enter it too.  Yer very good at drawing, ye know.
--Ye don't say! says McGurk, making a face.
He is very good at drawing, McGurk is, just not as good as Rory Prior.
As I'm climbing up on the roof of the hobbit-hole to make a jump, I notice that Ethel Prior is looking at me and she's giggling with her two mates.  I don't know if they're saying gud tings or bad tings, all I know is they're laughin, and it makes me uncomfortable. 
I try to ignore dem, and I take a step back, and then a wee run, and I jump. 
But whatever rotten curse those tree gerls have put on me, it works, as when I'm jumping, my foot gets caught on a crooked bit of rock sticking out at the edge, and my normal grace goes, and I land on me arse.
--Fuckin witches, I yell out from the ground.  Upset I am.
--Here, says Ethel.
--Why are ye callin us names? says the blondie one.
--I didn't mean that, sorry.
--Witches?  Ye dickhead!
--What did ye tink? says Ethel.  Dat we put a curse on ye or something?
--Not really.  Yiz were laughing and it put me off.  I'm sorry.
--I told ya ta watch out for de spike, ye fool, says Dixon.
--Yeah, I know, it's me own fault.
--He's a wee header, says the brownie one.  He shud be locked up. 
--Fuckin Eddie de Eagle, laughs McGurk.
--I told yiz now, says Rory Prior.  I said it.  Yiz have ta be careful.
--Ah, bollix, Rory.  Why don't yoo have a jump?  Are ye afraid?
--I don't jump off tings anymore.  I'm getting too old for dat craic.
--Yer never too old to jump off tings.  I tink yer just afraid.
--Ye can't beat jumping off tings, says Dixon.
--Alright then, bollix, says Rory, and he climbs up on the roof of the hobbit-hole.
--Be careful of the spike, Dixon warns him, but he needn't have said anything at all because Rory isn't listening and the same ting happened to me happens to him.  He blunders at the edge and flops down like a bag of coal falling off a truck.
--On the ground, he screams out:  Yiz witches!  Witches!  Yiz have cursed the lot of us!
He must have took the witch ting very seriously because he's going to town with it.
--What?  says the blondie one.  Are yoo right in de head? 
--Ye'll be getting no shift off me later, Rory Prior, says the brownie one.
--Dere's no such ting as witches, Rory, says McGurk, with glee.  Oh no, did ye hurt your hand?
--No, just me hole, Rory says as he gets to his feet.
 The glee in McGurk's face goes away when he realises Rory will still get to enter the drawing competition next week and he loses interest in the rest of us and climbs up to have another jump himself.
--Take it easy, Ethel says to her brudder. 
--Ah, fuck away off, Ethel.  You're not Mam or Dad okay.
--I know I'm not.
--Stop actin like it, ye fuckin cow!
And with that, Ethel Prior walks over and kicks Rory Prior a big one in the nuts.  Her very own brudder.  It's a perfect side-kick.  The kind you might see Bruce use to disable someone before hurling the high ones.
Poor Rory. 
But McGurk lands on his feet.
When walking home, I can't stop tinking about Ethel Prior.
I got away with calling her a witch and her own brudder didn't.  She must be really mad about me.
I'll be honest: I don't believe Ethel's a witch.  But that doesn't mean they don't exist.  I think there are some witches out there, but I don't think Ethel is one.  I don't think she's that bad actually.  Ye just can't tell wit gerls. 
I'll change my tune perhaps if it turns out her mudder really is one of Dracula's vampire brides but shur who knows?
My god, she kicks hard, she does.
Photo: Author's own