If Not In All Of History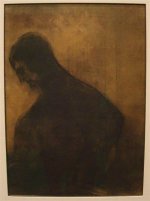 Fri, 01 Oct 2021
Elder hadn't seen the figure outside; by the time the commotion ended, it had already disappeared. 
            I can't imagine why someone would be wandering about in that weather.  Did you not get a few shots of the fellow with your camera, Knox?  Just to be safe. 
            It wasn't to hand, replied Knox.  Anyway, you can't just pick the thing up and start filming.  It doesn't work that way.  Technology has its limits.  There's a whole process you have to go through first.
Imogen too had missed it.  But what negligible descriptions others offered were enough to unlock a strange déjà vu within her even though she had not seen whatever it was. A dream she'd had last night which she had thought lost in the flurries of consciousness now returned.   In her dream, her bed was in the fields and as she lay awake but unable to move, a black cloud formation came towards her, floating over the fields, and as it got closer its contours began to change and then it started to resemble a man, a tall man, with no face, and holding aloft a golden statuette, the one they referred to as Oscar®.  Her fear began to subside for it looked as though she was to be the recipient of the legendary award but unfortunately the apparition passed her by and went to honour someone else.  
She had no supernatural memories of this place, no invading shadows, no objects moving about, no disconcerting sounds in the night.  Unresolved memories stayed however, which only came back to her every so often, of seeing her father and Elder together in the house, her father always sitting down while Elder stood raving about something or other; even as a child she could determine he was eccentric but had not the word for it at the time.  She recalled one day peering through the window of Elder's study to see the both of them standing over a bowl of burning herbs, seemingly praying, Elder dressed in a long brown gown.  It struck her as a fairly religious scene but also something more than that, or less even, for she recalled Elder coming out of his reverie and leaning forward to kiss her father and it was a long sustained kiss leading to a slow dance of heads – rest assured, she was aware even at a young age that this went against religious norms. 
The conversation she would now have with Elder would click with some of these memories.  In fact, she even heard the click as it happened.
            There are not a lot of people living in this area, said Elder, so I can't be sure who it was they saw.  Perhaps, and this might be a stretch, but perhaps our invocations have worked.  It could be one of our guest's pals come to visit.  Ahem.
            click
            (Knox turning the stereo off.)
            Invocations? said Imogen.  What drivel are you driving now?
            I say invocation but I should say reciprocation, for responding is all we are doing, is it not?  I don't know what will happen.  But I am hoping for the best.  And as we come to the end of this vulgar decade, I feel it is only right to answer the dead when they call on us from beyond.  They are not communicating with us for laughs.  I firmly believe the saints and leaders of our past are coming back to show us up for our misuse of this world.  History itself is coming to an end, moonflower.  And a new one is set to begin.
            Now that can't be true.
            Why not?
            History is set out already.  It never ends.  It all melts into one, doesn't it?  From moment to moment it's giving life to itself.
            Not necessarily.  Yes, I'll grant you some buildings have been constructed for purposes of permanence and there are of course elements in the cultures which prevail over time and so on and on, but predominantly history is written down and then it's fair game for whoever does the writing down.  You need only ask our archaeologist friend about some of the wrong trails we've been led to as a result of the pottier scribes.  And you can ask our Buddhist folks what their holy texts say about it all: that time is an illusion.
            Are not our remembrances history?  Our private recollections – most of them are not written down.
            Then they are not, frankly speaking, history.  Simply memories.  Who can say whether they happened or not but you, or the odd witness if you can rustle one up?  They are mortally condemned to not endure.  Unless we form a permanent shared consciousness, but we're not quite there...yet.  Ahem.
            Can't things exist at all without them being written down?  It seems a rather foolish sort of thinking to me.
            Oh, it is foolish, yes.  It is all very foolish.  But more power to the fools if you ask me for they oftentimes see what the learned establishment cannot.  And Paul McCartney agrees.  Remember that song? 
            From this, I'm assuming you'd declare all those clairvoyants and mediums and psychics fools as well.
            Certainly.  Fools...with respectable intentions.  I would be more comfortable if one of them were in charge.  For having held a seat in office myself, I can tell you that they're a shower of racketeers, desperados of divilry and grief, marching the halls of power with cloth in their ears, the foulest cloth.  I could tell you of Barry Boru, the former minister and proclaimed descendant of Brian, who famously called for the banishment of all foreign languages in '72, including the only one he spoke semi-fluently himself.  He would get all of a tiswas whenever in my company, face all red and eyes full of upset at the very thought of being enlightened on a topic, an awful wagon of a man, even going onto the TV to debate me one time on the conspiracies of fairies.   In fact, it is he, I am led to believe, who was behind the calumny that occurred this winter last regarding our very existence here.  That's his project now that he's been turfed out on his hole.  Combating alternative lifestyles such as that which we've fostered here.  So I'd be far happier if the government was made up of shamans and witches and spiritualists, pagan merchants, philosophers and flower children and beat poets, anyone with a modicum of interest in the transcendent would make a decent diplomat to my eyes.  They'd shake the country up a bit I'd say and for the better, you'd better believe.
             Sounds like a society of burnouts, said Imogen.  Sounds alright to me. 
            She looked out the window.  The darkness had intensified.  As had the storm.  It was definitely now the worst storm that had ever come about in her memory, if not in all of history.