The Kindred Eye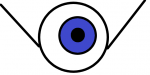 Tue, 02 Mar 2021
IMOGEN:  But what is it you would have me do exactly?
ELDER:  Presentation to camera, more or less.  I see you as an intermediary, a guiding light.  You will float towards the viewer providing in your pleasing and highly trained manner illumination as to what it is we do here.   
IMOGEN: Can you not do that yourself?
ELDER:  Mystery, my dear. 
IMOGEN:  Ah, they were right.
ELDER:  Who was right?
IMOGEN:  The others predicted you might have needed me on board so as to stay under a veneer of mystery.
ELDER:  (shrugs) Oh.  Well, am I not an open book?   
IMOGEN: Flimsy veneer. Ahem.
ELDER: And there'll be a script, by the way, so you won't be going it alone.  Essentially, with this film, I want to obliterate the idea that we are a cult of conversion.  We are not that.  And I am no cult leader.  If a transformation or conversion occurs, it happens only by the will of members themselves on their journey, not under any persuasion-spell invoked by me. 
IMOGEN: I assume this is some kind of propaganda film you're wanting.  Which would mean some persuasion is involved, yes?
ELDER: In a way.  But does its being propaganda make it any less true?  In fact, that is the only component of persuasion we have.  And a respectable component it is if you ask me.  Many have the concept of propaganda down as unfavourable these days and that is unfortunate; I would argue that cretinous thinking is so widespread in our time that some acts of persuasion are required if the world is to move forward responsibly.
IMOGEN: Well, the success of the film should be a fine measure of your refashioning techniques.  Ahem.
ELDER: I've had enough scandal in my life.  Ahem.  They will eat me alive next chance they get.  You understand? 
IMOGEN: I remember that alright.  It was some scandal twas.
ELDER: Twas.  That we are a sex-stressed nation is no understatement.  And our politics only serve to stress us even more being as they are so mendacious and guarded.  For all its posturing, I enjoyed my time in the Oireachtas but it took a soft blue film starring a German model dubbed by a street trader from Hackney to make me realise how ill-suited I was to the role.  My notions were delayed in their unfolding but they were inside me waiting to blossom for many years, ever since I discovered as a young man the wise and great Prannoy Krishnappa, a singular influence on my life and thinking.  It was not until that bloody blue film and its accompanying scandal that I was able to mature psychically and find the nerve to set up The Kindred Eye, to continue hopefully the methods and teachings of Krishnappa here in our little home in the midlands.
IMOGEN: Oh, yes, by the way, you spelt a word wrong on the flyer. (There was a stack of flyers to her left and she picked one up.)  Spirit is missing an 'I', the last 'I'.
ELDER: It's fine.  Nobody noticed until you arrived.  Ahem.  (looking closer at the flyer)  There is an error, yes, but one you can barely make out at all.   
IMOGEN:  Reads to me as Mind-Body-Spurt.
ELDER: To you, moonflower, but others aren't as sharp-eyed and dark-witted as you.
IMOGEN: Apropos my sharp eye, I did not miss the cadaver – a human one I'm sure – that briefly appeared in the film.  I take it you have it stashed up in the loft.
ELDER: I apologise if you were shocked by that.  I had forgotten Knox filmed those scenes.  But you were going to find out sometime or other.  Now is as good a time as.
IMOGEN: For all the suffering your last scandal brought on, I should say you don't seem shy for taking on another.
ELDER: Ah, well, this is the thing.  What we have here is a situation that wouldn't qualify for contemporary scandal.  First of all, it lacks sufficient levels of raciness to get the tongues wagging.  And secondly, well, it's an archaeological discovery, isn't it?
IMOGEN:  I see.
ELDER:  We found him over the hill a few weeks back.  We have these turning out days as I like to call them where, when the weather allows, most of us go out and explore the pasturage as a group.  That day we were around the peat bogs gathering berries and such when we stumbled across this peculiar face in the ground.  It gave everyone a fright, of course.  The early summer peat cutters must have accidentally shovelled him out of entombment as it didn't take much more digging from us to uncover the rest of him.   MacKenna says he might have been under there for two thousand years or thereabouts.
IMOGEN:  Well, he looked fairly comfortable for a two thousand year old.
ELDER:  Yes, he'd been in the ground so long I thought it only right to give him a chair for his behind.  So that is why he is upright up there.  These are comforts we take for granted above surface.  And there is a cup of whiskey beside him at all times. 
IMOGEN: Whiskey?  What would he want with that?
ELDER: On the off-chance, you know.  That he wakes and gets the thirst.
IMOGEN: It'd have to be good whiskey to raise him up from the dead.
ELDER: Adequate whiskey.
IMOGEN: You're pulling my leg with all of this, aren't you?
ELDER: No.  We are almost certain that there's still life within him, trapped regrettably inside the body.  Something must have happened during his mummification.  Not only was he anatomically preserved, relatively speaking, but a life force prevailed too, I believe, absolutely and completely, his spirit hung on in there, bottled up.  Perhaps the natural biochemistry of the bog does more than just maintain the physical being, perhaps it has further sanative properties, keeps the soul warming over too.  I always thought there was more to all this bogland we have.  Otherwise it's just wasted on a bunch of flies, is it not?
IMOGEN: The fact you're keeping a body in the attic was enough.  With talk of spirits I now have a good mind to leave.  Laws are breaking all around me, and the laws of reason are the latest.
ELDER: No.  Imogen.  Moonflower.  Please.  You must understand.  There is something bigger than all of us here.  Let me prove it to you. (looking around the room, then calling out) Knox! 
KNOX: (from across the room) Yap.
ELDER: Come over!  Take that tape with the voice and bring it here.
IMOGEN: Voice?
ELDER: Revelation, you might say.
Knox arrived before them moments later with a Ferguson cassette recorder. 
KNOX: You told her about...?
ELDER:  Yes, yes, yes...Play. 
KNOX: I have to rewind it first. 
ELDER: Oh get on with it then.
KNOX: Don't worry, it won't be long. 
The tape whirred backwards.
WHIRWHIRWHIR
CLICK
Hsssss
CLACK
WHIRWHIRWHIR
CLICK
Hsssss
CLACK
WHIRWHIRWHIR
CLICK
Sssssaol
CLACK
WHIRWHIRWHIR
CLACK
KNOX: That must be it now.
ELDER: Very good.  Okay, listen.
CLICK
Hisssss......hisssss.......hisssss
An féidir liom.....................hisssss................
sssssaol arís........
hisssss...................
Díoltassss .................hisssss
                                                ........a fháil
Hisssss.....níos mo custard le do thoil...........hisssss
CLACK
IMOGEN: It's in Irish.
ELDER: Tis.
IMOGEN: I don't understand it.
ELDER: Me neither.
IMOGEN: What?  And you a flipping Seanad member?
ELDER: I get by with a few words but I was stumped by these ones.  Knox here speaks it well.
KNOX: Well enough.
IMOGEN: So what is it saying?
KNOX:  It said at the beginning: May—I—live—again?  Then: For—vengeance. 
IMOGEN: Vengeance?
KNOX: And the last part was: More—custard—please.
IMOGEN: Who is it?
KNOX: It's your man upstairs.
IMOGEN:  Will you cop on...
KNOX: There was nobody else in the room when that was recorded.  It was just me. 
IMOGEN: (to Elder) This chap's having a laugh.  It's just his voice I bet.
ELDER: Maybe we should have thought to leave some custard up there along with the whiskey.
KNOX: It's not me.  I swear.  That day, I was up there alone...relaxing.  And I fell asleep.  I thought I pressed Play beforehand but I must have pressed the Record button instead.  Ended up taping over my Tangerine Dream album.
ELDER: I believe him.  He's a headstaggerer.
KNOX: Yeah.
IMOGEN: So be it then.  You have an old ghost running around the place mumbling about vengeance.  Are you not concerned?     
ELDER:  We have no fear of that.  None.  If indeed his spirit has arrived to inflict vengeance upon us all, it has obviously made some kind of mistake.  For we have harmed no-one here.  No-one.  We are but a meditation retreat, pure and simple.  Fine and good people all.
IMOGEN: Maybe it's after revenge for your spelling error.  Spurt.  Ahem.
ELDER: That would be irrational, even for the spurt-world.  Ahem.