An Odd Customer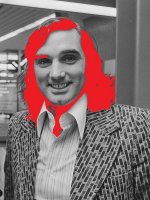 Sat, 10 Apr 2021
1 likes
MacKenna laid the brush and pan against the wall and went to open one of the skylights.  A bird at rest on the roof flapped off in agitation.   He then moved closer to the bog man and leaned in almost as though conducting a routine inspection.  He noticed the custard-marked lip and turned to Devin and pouted.
            --That wasn't me now, said Devin.  It was on him when I came in.
            The archaeologist swept his wee finger lightly over the luteous substance, then placed what he'd collected on his tongue.
            --Ah yes.  Custard.  Elder must have sent some up yesterday. 
            --I heard something about custard on the tape.  What's that all about?
            --Retention and replay, I assume.  The druids used the stuff for certain rituals. You never know what the soul will throw up and repeat from memory.  Think about those damn dreams we have.  They might zero in on what would otherwise be unremarkable details in our daily lives.  Such as the tools we use.  I didn't ask you yesterday – what is it you do in the world?
            --Oh...I'm a chief modelling technician...the chief modelling technician...of a scaffolding company.
            --A respectable profession.  And your tools?
            --I don't know.  Pipes...pens...
            --Well, if it was your soul that had survived this long, would it be a stretch to say you might be calling out for some pipes and pens as our man here yearns for custard? 
            --For sure I'd say it's a stretch.  I hope before I've kicked the bucket pipes and pens are not even a passing thought never mind a lingering memory.  And besides that, do you really believe that's his soul talking on the tape?
MacKenna sighed. 
            --I'm halfway to believing.  You might call me a scullion.  An impressionable scullion. 
            --I might.
            --Well, I'm not.  Usually.  I'm able to put up with interpretations of the world that my peers would generally disparage and as well as that nowadays I think I'm more amenable to technology's sensitivities with regards the supernatural.  New technology is as perplexing to me as any book of spells.  I'm beginning to think they really are objects of divination as each new contraption is produced.  And it's true that Elder has gone some way in making me open to this new presence of mind.  I cannot deny that he is a suasive sort of fellow, being the well-practised storiologist that he is, of course.  But I find he is more than that.  Something of an elsewhere historian.  There are theories he has presented to me that play rather well with thoughts I've had myself over the years.  Elsewhere was not on my radar until he brought it up.  But I've always believed there are more secrets buried deep in the land than archaeology could ever provide answers for.  And though I would never have entertained the idea of magical properties existing in the bog, I am getting nearer to thinking there is something, and that perhaps it is not a magic exactly – but something merely further from our sciences which we have yet to arrive at considering. 
            --Like what?
--Elder has suggested a natural chemical residing in the bog which not only keeps the body going – that would come in the sphagnum – but which may also keep the soul alive.  It would be quite something if we were able to cultivate from whatever it is a new medicine that could prolong life, yes?  Connecting the physical preservation with the psychic.  Chemistry's an odd customer.
--That would be quite something.  You'd have a way into immortality there, wouldn't you?
--Yes indeed.
--But I should say, said Devin – and you may not agree with me, that we have immortals already in the world.  Georgie Best for one.  Nothing can stop him, it seems.  Not the drink, nor even a truck going high speed.  He can dodge it all.
            --I do not agree with you.  There's always a final whistle and even Best must abide.
            MacKenna looked down at the whiskey bottle.
            --How much of that did you drink?
            --Just a few mouthfuls, replied Devin.
            MacKenna nodded.
            --If we get to walking and talking again with him, I'm sure we'll get to drinking too, so there's no harm in leaving it with him.