Stellar Pursuits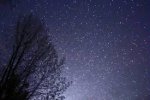 Tue, 09 Mar 2021
Outside, a rose moon had the hills held in its white light while the rest of the countryside went into flowing shadow.  On the news, a storm was being projected in the days coming by Seamus Miller but you'd be hard pressed to believe the usually sincere man with the sky looking so gentle and the stars so bright and clear.      
Inside, an evening of wholesome revelry commenced, the likes of which you would expect to go on in the wonderful paintings of Renoir, though the men here were a great deal fleecier and the women certainly groovier-looking, in the mode of the present age.  Devin the working class Belfastard was the most Renoir-looking of everyone with his moustache and coiffed hairstyle.
Various bottles on the small wicker table.  Dubonnet Rouge.  Babycham.  Cork Dry Gin.  A Hennessy XO.  And everyone kept an eye on Sullivan to make sure he didn't go near a drop.
There were effects in the room to defy electrics.  Older instruments employed to dress the modern world down and conjure up a dreamy past-world atmosphere.  Candlelight and incense sticks.  The unfinished lotuses on the walls looked finished and just fine in the glimmer.  And the whiteboard was now tucked away behind the piano to signal school was done for the day.   
From the piano stool, Crispin Collins sang a song called You which he might have written especially for the philosophy student Abby Kane because he looked intensely at her as he sang it and every You meant Her except one time when his eyes dipped and it meant Someone else.
With cognac, potvaliance entered the shy postmaster Mr. Brennan.  However, his communications were soon hampered by suspicion, for during each exchange he was prone to stopping mid-sentence and leaving whatever thought he'd had out to dry; then he'd stare at the person he was talking to as though he knew they were secretly put off by his bad breath.  He didn't have bad breath.  It was all in his head.
Everyone still had an eye on Sullivan to ensure he hadn't gone near a drop.
The sofa at the back was dung-coloured with a yellow filoselle cover.  It reminded Devin of his granny's house in Andytown.  Graceless and bedizened but welcoming.  He went and sat on the arm and listened to the people.  Elder was there talking about black holes and physics and life on other planets and when he saw that Devin had joined them by the sofa he turned to his guest and asked if he knew that his lovely paramour was a protestant.  Devin told him he did surely and then asked Elder about the shapes of the UFOs.  Long and flat, Elder told him.   
The bleary-eyed Knox was on the bean bag smiling and pressing record and stop, record and stop on the Ferguson tape recorder as Abby sat on the floor trying to outline for him John Stuart Mill's criticisms of Jeremy Bentham, awkwardly, as she had dropped out of classes before consolidating all the required knowledge to do it justice.  Stoned out of his mind, Knox rejected Benthamism in favour of Mill's emphasis on the higher pleasures.
The French novelist Ismay Tasse told Imogen about an apple tree in Chantilly that when she was a child she would lie under praying an apple would fall and strike her hard on the head. No apple ever did.  Not when she was lying under the tree anyway.  No critic or academic, nor one of her peers had been able to figure it out yet, but all of her novels were fundamentally about waiting for those apples to fall and hit her; every word she had ever written stemmed from the hours spent lying under that tree, though she admitted to inflaming the masochistic element for effect, turning the apples into brutal criminals who came out of story-nowhere, punched her surrogate characters and then turned and ran away.  It was a famous trope in her fiction.  But no-one knew about the apples.  Except now Imogen.    
And eyes stayed on Sullivan.  They were pretty confident he hadn't touched a drop.  The man deserved a medal.
At one point in the evening, the Stewarts expressed some outrage about something they overheard the terrible humanist Sasdy saying but they declared in front of everyone before they retired for the evening that they respected his right to free speech and Goodnight.  Nobody was absolutely sure what it was Sasdy had said to offend them.  Not even him.  The party continued as though declarations such as these were a regular happening in the place, simply that.
What would Renoir make of it all?
Later, in the Elysian Room, nicely soaked but not enough to make their evening screw a chaotic one, Imogen lay on the bed in her underwear and told Devin all about the mummy their hosts were keeping upstairs, while her significant other sat on the floor with the telescope, naked as the day, looking out the window for flying objects. 
            --I wouldn't worry, he said.  There's probably loads of bodies buried out here.  I agree though that it's a bit odd they haven't called anyone.
            --I know.  Isn't it? 
            --I wouldn't worry...
            --What of the voice captured on tape?
            --Bunk.  But decent bunk.  I like your man Knox.  He's a dope but a decent sort of one.
            --You've changed your tune on the hippies, so?
            --Not on hippies in general.  These folks seem harmless, I would say.  Typical free-staters.  Half of them are just artless busybodies, the rest are just away with the fairies.  But in an amusing way, you know.  And I think we could all do with some of the serenity they've got going.
            --Serenity?  That's what you see? I thought they were all quite hysterical. In the mad way.
            --Ah, they're all mad, yes.  But they didn't infuriate me the way the city ones do.  I'm not sure what it is your man Elder has going on but he had me taken in with the cosmic stuff and I only had one toke all night.  Don't get me wrong now, I won't be growing the hair long and dancing and holding hands when we go back to Dublin, but I'm willing to give meditation another shake.  I'm thinking of giving it a go in the morning.
            --Fair enough.  Anyway, Copernicus, are you done with your stellar pursuits?
Devin nodded and stood up. He got on the bed and the pair of them frolicked for a short time like dogs in the park before starting the slow and pleasurable crossing of the other's flesh.  While enjoying his lover's delicate neck, Devin's eye went to another actress briefly, the image of Shirley MacLaine, her sportive and sprightly face surveying them from the wall, and in her beads and smock she suddenly impressed him greatly, as though she was more than simply a well-known player in the pictures, but a heavenly mother who controlled the moon and the stars, and had now come to pass judgment on his crude male urges.
            --Don't go soft on us now, said Imogen, placing her hand on his now panicking shaft and rubbing steadily and encouragingly.  
            --Ah, there'll be no stopping me now, he said, lifting her up by the legs and as rough as if he were a bear pushing her whole body down on the bed, a manoeuvre he'd pulled in the past only to head-butt her by accident; but fortunately there was none of that today.     
Outside, a gunshot rang out in the dark, a powerful black sound.  The night sky shuddered.  The rose moon blinked.  You'd think an alien craft had flown by with how shaken it left the nocturnal creatures, many of them looking up in the air startled and unsure. 
But the sound came not from the sky, but from deep within the nearby wood.