A Stillness Of Trees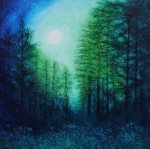 Tue, 09 Apr 2019
It might surprise the under-tutored to discover how faithless the faithful could in actual fact be.  Oh, some may have been up to the test, ready to accept and pursue the most implausible contingencies life had to offer, but you know they wouldn't have gone through all the hoops for those frocks and comfortable beds if they weren't somewhat pragmatic and shrewd as people from the off.  Even Father Stinson now, red-blooded young canonist as he was, looked doubtful when Katrine repeated her request, now putting it syllogistically:
'It would seem your ship is travelling in our direction.  And you are holy men.  You were hired by God to help people like us.  So it follows that you should take us with you.  It is only right that you do.'
'We're not the men to ask,' replied Masterson.  'You'll have to get through our Captain.'
'Yes, Captain Littlewood,' clarified Stinson.
'Littlewood,' muttered Walter quietly, alert to the words being spoken around him, if not wholly absorbed.    
'Yes, Littlewood, and he can be rather low in his spirits,' Stinson continued.  'I'm not sure if he would be open to more passengers – no matter in what corporeal state.'
'It's true,' added Masterson.  'He's not a man of towering mirth.'
'And you're one to talk,' said Stinson.  'But, yes, there is sadness there in our Captain Littlewood.'
'And the cause of his sadness?' asked Katrine.
'Much the same as yourself, I believe,' said Stinson, his eyes on the coffin.  'He lost his mother too.  Not long ago.'
'Yes, so that might be your ticket,' said Masterson.  'You could appeal to the grieving soul in him.'
Katrine's eyes lit up.  'You think that might work?'
Stinson gave Masterson an excoriating look.  'You would be so cruel as to exploit a man's grief?'
'Sure that's the whole bloody point of our jobs, isn't it?'
'Maybe for you.  I don't see it that way at all.'
'Do you think there would be room on the boat for us?' asked Katrine.
'Ah, it's not fit to hold even one of us as it is,' said Masterson.  'The smell onboard is like some treacherous narcotic.  I think we'll all have been poisoned dead by the time it gets anywhere.'
'Well, we've survived thus far.'
Walter seemed then to come back from his second absence; after spotting the glass of water Stinson had brought for him, he took a quick sip from it, and said again the name 'Littlewood', but this time louder, not a mutter. 
'Oh, you know the family, do you, Walter?' asked Stinson.
'No, but I like the name,' Walter replied.  'It makes me think of a stillness of trees I dreamed up once in a topographical reverie.  A noiseless wood and a small path running through it covered with silver pebbles.  Forgive these associations.  It is not just a mark of being regularly out of body but also of my bilingual faculties.   Words and ideas and dreams, unconnected though they may be, are always finding each other in the darkness.  Littlewood.  It's an evocative title.  I think of that little wood, and of the silver pathway, and at the end of that pathway, beyond the trees, a beautiful little house with a loving family waiting inside.  But before you get to the house, you must conquer the silence.  Walk that path quietly so as not to upset the wind and wake the trees.'
'You've no need to worry, Walter,' said Masterson.  'After all of that, the wilderness is well and truly out for the count.'