For The Thorns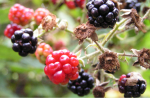 Sun, 18 Apr 2021
MacKenna had broken with tradition in the house of Elder, for as it was, the residents rose from their beds in the same order each day; the Stewarts were always up first, then Abby Kane, then MacKenna, Mr. Brennan, then Ismay Tasse and Frances Buckley, Crispin Collins, then Sullivan, then Sasdy, then Knox.  But MacKenna had beaten Abby to the day owing to Devin's wandering about.  The only other time the sequence of waking was known to break was if Ms. Tasse had spent the night with Elder, who was always up last of all.  Then the two of them would be seen rising together.  Last night that did not happen as Ismay was now up and about with Abby and they were waiting for Imogen to get a move on.
--Right then, are ye all set?
--I am, said Imogen, as she shuffled out of the elysian room zipping up her Ferrari windbreaker.
--Wonderful.
Imogen followed Abby into the kitchen where she found Devin standing at the butcher's counter, a slice of toast in his hand.  MacKenna was there too.  Devin flashed a look of forgive me when he saw her.  She nodded magnanimously.  Sure you can't be screwing all the time, she thought. They'd make up for their missed one later. 
Abby went directly to the cupboards under the sink where she took out some plastic bags and leather pruning gloves.  She walked back to Imogen and handed her a pair and said For the thorns.  
--Oh right.
Abby had invited Imogen and Ismay to join her for her daily exploration of the local wilds and if they happened to encounter any diversions in the way of pickable fruits and nuts then surely proper safetywear should be worn in the procurement of such things.
The three ladies emerged from the house under a deep cloud and to a thin hanging mist in the air.  It was a doomful day.  A storm was getting ready to attack, according to Seamus Miller, but who knew when precisely, for the famed weatherman certainly didn't.  The fields might have known all about it though, the grass seeming to cower under shivering feather wands and rattled weeds.  Imogen wasn't an expert on fields but assuredly she'd diagnose these ones as apprehensive.  The woods about a mile out to their left were also ominous in their diminished visibility, the trees faint and scrawny, coming off like the shadow of a forest forgotten by antiquity and its heirs. 
--Do you get much shooting out here? Imogen asked as they walked.
Abby cocked her head.  You mean gun shooting?
--I do.
--Not a lot.  Why do you ask?
--Nothing important.  Only I thought I heard a gunshot go off in the night.  I was half-asleep.  I've never heard a real one before so I might have been wrong in my guessing.  I would have asked Devin but he was out for the count when I heard it.  It could have been a motorbike too.  But I haven't seen any of those around here....
The first part of Abby's daily walk was the most arduous for them; she led them round the back of the house and uphill where they struggled through dense thicket for a while.  Imogen admitted some regret for agreeing to come as she clambered and stumbled over the rarely trodden hillside pushing past spiky leaves and nettles.  Then finally they came to a slender path that took them back down thank the bloody saints.  It was a trek Abby had come to enjoy over time, but for those who were unused to it, it was all just an old nuisance.
--Now that you mention it, said Abby.  The farmer who lives just past the hills has a gun.  And I heard it go off one time----I think.  They say he shot at a helicopter once.  
--These skies come alive most nights, said Ismay.  You probably heard them.
--Them?
Soon they came to a lane that was hidden beneath the foothills and it was opulent in its store of berries and vines; and though it wound around the back of the lea in secrecy Imogen was able to trace the direction of its cortege of reds and purples and guessed that the lane ended right where the woods began.     
--I'm not one who goes in for all that talk, said Abby.  Flying objects and such.  I'm just here for spiritual and emotional betterment.  That is all I desire.  I've no interest in the paranormal.  But I respect Ismay and Elder and some of the others even if they hold extraordinary and some slightly half-carried beliefs.
--Merci, said Ismay.  Some people are just unlucky not to have seen what a great many of us have seen in the skies.  There are many short-sighted people in the world.  It is why I have my eyes checked once a year.  I don't want to miss them when they come. 
--Oh, have you seen a UFO?
--I believe I have.  So I believe I know.  It is by the way why I no longer write fiction.  There is just no point anymore knowing now what I believe I have seen.  And the literary world is only too ready to sneer in their ostentatious way at----one such as I.
--I always thought Elder was stone cold mad talking about the UFO stuff, said Imogen.  Not to say that that is what you are, Ismay.  It doesn't bother me to hear these notions coming out of someone in the arts, but from someone in politics.  How they allowed him in at all is a mystery to me.
Ismay grinned.  Oh youth, she said.  I hate to say you are wasted utterly but you are.
Abby and Ismay stopped at a blackberry bush and put on their gloves.  Imogen put her gloves on too but stood back and watched as the other two went about the business of picking, for she, in all her life, had never picked anything.  She grew up on Fitzwilliam Square.  There was nothing to pick around there except the odd twenty pound note dropped by a rushing kerb crawler if you were lucky.  This was how a city girl lived.  Yes, that's what she was.  She'd been open to the kind of spiritual betterment Abby spoke of but it seemed to have slipped away from her out here in the country.  She'd fooled herself into thinking that was what she wanted.  When really she was just a city girl at heart.  All she wanted was the theatre, and tea in the Gresham, going to the Dandelion Market, and dancing in nightclubs, and peregrinating in galleries and museums, all the things she thought she'd grown tired of.  Dumb-footing through the hills and picking berries off of bushes and listening to people going on and on about UFOs and ghosts and dead bodies: No.  Meditation would start soon back in the house – or mind-cleansing as they often referred to it – when everyone was awake and charged; and pencilled in on the schedule for afterwards: a de-egotising session such as the one they had walked in on yesterday.  She feared she wouldn't have the patience for it.  Yet there was Devin: hadn't he taken quite the dive to eagerness? 
She felt alone with her cynicism now.  Alone in her Ferarri windbreaker.
Ismay suddenly cried out in pain. And she swore probably in her regional dialect.  When she took off her glove, a tiny bubble of blood had materialised on the tip of her middle finger.  It appeared Abby's leather pruning mittens were not as thornproof as they needed to be in order to withstand the awful teeth of nature.  Both Imogen and Abby stepped away looking down at their own safetywear with concern. 
For Imogen, the blood on Ismay's finger was just another sign that she wasn't meant for the new age.
Image: Wikimedia Commons