Washing Machine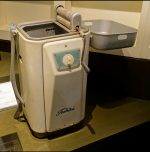 Thu, 14 Oct 2021
Having finally set everything up, Knox framed the ladies under the bookcase in a two-shot and admiring his composition, he muttered, Beautiful. 
            Let me see, said Elder, grabbing the viewfinder.  Yes, it sure is, and you are both too, I might add. 
The ladies flinched, the light hot on their faces. 
            I can tell you truthfully, Imogen began, and also with no others around to hear, that yours is the interview I've been most looking forward to.
            I am not used to interviews anymore, answered Ismay.  So I hope you will be easy on me. 
            I'm not a professional so you have nothing to worry about.
            A clumsy performance for both of us, yes. 
            Well....? wavered Imogen.  Let's get to the first question, shall we?
            Oui.
            I was wondering first of all how it feels to live with so many people.  There's about a dozen of them here.     
            It is a fine collective.  But not without its snags.
            Ah, smiled Imogen, leaning forward. 
            Although I love dearly all of my co-inhabitants, I can say that you learn quickly how selfish the human animal can be when you are put with many of them to live under the same roof.  For example – the washing machine.  It is a convenience, a sublime convenience.  But what of those who would hog the machine, you know?  Living with abandon, their load left in there a whole day without attending to it, the rest of us unable to put our own washing in.  That rubs me up the wall.  When I first arrived, it was different, we had a more co-ordinated system, three people assigned each week to oversee all washes.  But that method has fallen by the wayside.  But it is always a danger when what one is into is the self.
            Cut! cried Elder.  He stepped forward.  I mean, really, Ismay, he said, do you want to be going on about all that now?   
            Pardon, replied Ismay.  My feet are far from fleet in conference.  It has been such a long time.
            Do as you used to do it.  Imogen, why not ask her about her novels?
            Imogen nodded, awkwardly.  Is this a nice place to write your books? she then asked, blushing, for the question seemed so trivial, like something a child would ask.
            I have not written a novel since 1964.  And that is a good thing.  I have no time to dwell long in the transgressive side of things, in the mysteries of the human heart – its fevers and misdeeds.  I am only interested in the outer mysteries.  I do not gallop in my hunger.  I am now simply a lady-in-waiting-for-the-next world.  Apart from the situation with the washing machine, I am most satisfied with my life.
            Elder grunted. 
            What a life it must have been though, continued Imogen.  Don't you miss it?  I could do with some of that adulation myself. 
            There was no adulation – well, a little.  But what nasty people they were that gave it or pretended to give it.     
            Do you not miss the artistic process?  Or do you employ your intellect in other ways?
            I wrote what you may call a long poem during my first month in Ireland.
            Oh.  I love poetry.  Do you know Mina Loy?  I have a collection of her poetry here with me.
            I enjoy her lamps.  But I despise all poetry.  My long poem is in reality a manifesto disguised as an essay in the form, appallingly, of a poem.  It was written in a moment of such self-loathing I cannot tell you.
            I'm sorry to hear that. I'd very much like to read your books but my French is not good.
            I do have a spare Castration upstairs which you can have.  As a souvenir.  It is leather-bound.  I would even inscribe it for you.  Another thing I have not done in many years.
            Let's move away from Castration, eh, interrupted Elder.  How about some general questions about...her time here, her meditations, her...mentor?
            You mean ask her about you?
            Of course.  We should have testimonials.  It's appropriate the film speaks to the quality of guidance on offer.
            It seems you would have each interview go your own way.  Would you not have been wise enough to write a script for each of their responses?
            Now.  Mind that lip, moonflower.
            Well.  I'm only saying.  Not everyone can cope with the bulk of your charisma.  You've put many a man mad with your magnetism.  Ahem.  My Da for a one.
            Ah now, your old man hasn't a foggin notion, me or no, and we all know that.
            Imogen sighed.  Then she turned back to Ismay Tasse and said: Tell me about Hayes Elder.
            Ismay curved her mouth to a smile, then slowly whispered, Lee-bear-ray-tear.