I'll Save Myself
Image: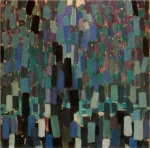 Fri, 12 Jul 2019
You see me frowning, face pained, emotions overflowing,
You see me sobbing, heart open, hurt showing.
I want to thank you for not staying, nor helping and keeping distant, 
as that showed me I can endure your emotions so inconsistent.
I learnt patience in pain and to mix strength with my beauty.
I learnt I owe it to myself to know I am can move on, in self-care a sense of duty.
That leaving you behind, the lack of care in your blinding self-indulgence was an opportunity,
to know I can do this, it will hurt, but without you, is the only way, I can keep growing.
From the book Paper Doors / TaHiron.com