This Modern War
Image: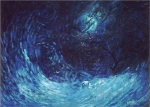 Thu, 13 Jun 2019
A short story about loss.
I find myself staring a little longer than most days at the print on today's paper, 15 June 2011. It is the same feeling of despair that isn't different from any other day.
These emotions I feel now control the moods of dreams; full of despair, sadness, helplessness, most of all the absence. I wouldn't imagine the feelings are different for any other wife waiting at home whilst their husband is off in this modern-day war, especially after such time without contact.
I cannot eat today. Whilst I have learnt to eat despite the sick feeling, today I cannot. With every breath I feel more alone. The tick of the clock echoes in the thin air and time seems to move a little slower.
The sound of crunching gravel under tyres comes to my ears. As I raise my head two shiny black cars travelling down the street turn into the driveway. My mind blurs and I feel my body's auto response of numbness sweep over me. A pit in my stomach forms as my sight lowers and fixes on the shine of the tyres. A sight from which I cannot lift my head to look up to the people now exiting the car. I already know what is happening. It is the realistic side of war at my doorstep, and I am too practical to even will it all away. It carries on like a play, I know my part. The moment, paused in the movements of these people, feels like hours in length.
I already know the message; it reads all over their hollowed faces. Their message carried into my world with its cloud of remorse. The darkening of my light. My previously blissful world already seems a lifetime ago. As the minutes, full of hours' pass. They make their way to the door. I look down and see the paper's print again, the date is forming a scar on my mind. That date, today's date, now forever part of my genetic make-up.
Two men in uniform of a corporal rank. I see their shadows behind the glass panes of the door hesitate; they don't want to enter and deliver the message any more than I want to hear it.
There is nothing I can do but let them into my world, for it has already happened; this is the aftermath of the situation I would die to prevent. I know what they have to say; they don't need to do any more; they can just leave now. I wished they would, already wanting solace and so much for this moment to be over knowing it will last forever. But I cannot tell them to leave, no matter how much I want to; my brain can do no more than just go through the motions. Subconscious actions are all that is working in me now. I can do nothing but walk, open the door as the world blurs beneath my hot tears now streaming down my cheeks.
They knew what the vision of their appearance would invoke. I let them in but they only enter a few steps. They hand me his last letter; it didn't even make the post for it to turn up in a few days' time when I would begin to just breathe again. I am glad I get it now as it would just start today over again. They only apologise. That is all I can hear them say. I can feel the pain in them; the sorrow in the room tightens around my chest like a constrictor, taking the air out of me.
There is no need for explanations now, they know this, and wisely, respectfully leave. Their contact details are on a card on the bench for when the time is more bearable, but I can foresee no such day. I cannot even comprehend a day after today, nor a time when I will feel whole again. Just leave me be.