First Principles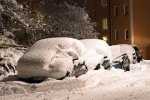 Mon, 03 Mar 2014
Robert stooped to scoop up a handful of snow. The artificial fibres of his Polartec gloves clung to the stuff, preventing it from binding as he wanted. He frowned. How could he create the optimum shape for a perfect parabola unless he removed them? Lena paused just before the tree-line, turning to look at him. In front of her, Emily was asleep in the buggy. If Lena took two more steps forward she would be safe, the blanketed trees providing ideal absorption.
There was no choice. He removed the gloves and quickly moulded the snow into shape, cupping and crafting a flattish, pebble beneath his palms. Lena shouted something indistinct. He knew by her tone that she was happy. A thin white curtain hung from the back of her red padded ski jacket where she'd rolled on her back alongside Emily, pushing her arms and legs up and down like a marionette to create an ice-angel. Emily squealed, rolled over on her face, and yelled some more. Her mother's daughter.
Lena moved a foot into the wood, giving the buggy an extra shove over a thick drift. Now – now! Robert wound his arm back, then hesitated. Supposing he missed? She'd walk on in silence, never knowing what an incredible moment of lightness he'd just acted upon. But if he connected, how would she react? Angry-angry? 'What are you doing, Rob? Jesus....that's not like you...'
He closed his left eye, taking aim. He'd already calculated the most efficient angle for the required distance was 45 degrees, basing his assumption on reasonably level ground, little likelihood of spin on the snowball, and no apparent wind resistance. He still couldn't be a hundred percent sure of contact, however, so he modelled the problem into two further components, the vertical and horizontal, with the horizontal component being a constant speed from launch to landing. The vertical component took into account gravity, and therefore acceleration. At this distance, and given that he was working only from first principles, he calculated that he would hit Lena somewhere below the shoulder blades and just above the waist. Without resorting to further componential modelling, instead relying on what he assumed to be a given, he decided that contact with this part of the body was least likely to provoke the angry-angry reaction.
The day hadn't started well. As he awoke, Robert sensed change. Even at 6am, the grey winter light that dragged itself off the pavement and stained the orange curtains was unnaturally vivid. And there was the silence. On the far side of the common, the road was deserted. The distant roar of the motorway was a subdued mutter.
He sighed, turning on his back. Next to him, Lena involuntarily snuggled closer, pushing him to the bed's edge. Irritably, he resisted, but not so brusquely as to wake her. He needed time to work out his reaction. When she awoke she would immediately feel the cold in the bedroom. She'd get out of bed, stumbling into slippers and dressing gown. Then she would draw back the curtain and scream like a toddler with a new toy. The first snow of winter. It would go as quickly as it had come, but while it lasted it would sow chaos, disorder, disruption. He could not bear it, even for a day.
"Oh my God! Snow! Rob, look at it. It's amazing!"
As predicted, she hauled herself up almost as soon as her eyes opened. She'd checked the late-evening weather forecast the night before. For a change, it was correct. At the window she turned to face him, the light framing her face, splitting it down the middle like a ying-yang.
"It's just snow," he muttered, looking away. "Frozen precipitation."
"Oh, Rob......come on. Can't you feel it in the air? It's magic!"
"Granular material with an open structure," he signed, "no magic involved."
Lena drew the curtains, her enthusiasm pummelled underfoot once more. His determination to categorise everything, reduce it all to science, was wearying. Like that boring fucker Dawkins. Wholly correct, but utterly boring.
"Well, I'm getting Emily up to see it," she said, grabbing her dressing gown off the hook on the bedroom door. "Actually, better than that. We're going out in it. All of us. Right now."
"Now? But what about work?"
"Get your arse out of bed and take a look, Rob. The snow's three feet thick. Even your PHDs aren't that swotty. The faculty'll be shut. It's a free day off. Smile - you've got a two-year-old kid. Get up, get out and for her sake enjoy yourself. If you like you can tie the whole experience up in an equation later."
He listened as she pushed open Emily's door, speaking in the soft tones once reserved for him. It was all Emily now. She'd frozen him out. Why? He worked hard. He maintained an excellent international reputation for his research. They could afford to live in this house overlooking the common where they'd taken the first, faltering steps of a relationship. Lena was one of his best students. Faculty gossips had tut-tutted at the beginning, but he didn't care. She had a huge future in front of her - quite literally as it turned out. Within months she was pregnant. Not what he expected. He knew how it had happened, but not why. It wasn't part of the equation. Robert moved swiftly to minimise the disruption ahead. They would stay together, of course, but they agreed she would take up her post-doctoral studies as soon as the baby was born. The faculty needed her brilliance. There would be paid help – au pairs, nannies, whatever it took. Life would continue as normal, albeit with a bit of extra business at bedtime and a circuit around the common at weekends, joining the Sunday afternoon Grand Prix of pricey buggies and well-dressed, attractive parents he'd previously only wondered about.
He should've known. Lena's genius was fuelled by her unpredictability. Within days of the birth she announced she wasn't going back to the university, not ever. "No lab could ever produce such a miracle," she gushed. "Emily's my work now."
He argued, begged, cajoled. The whole project was in jeopardy without her. The faculty would suffer badly. The environmental impact of its work was potentially huge, but only with her input. None of it washed. She and Emily were one, and no amount of guilt-tripping would work. "You'll find someone else," she said. "The South Koreans coming through are amazing. Twice as good as me."
"Intelligent, yes, but not intuitive. Not like you."
"I thought you didn't believe in all that," she smirked.
He hadn't, not until he'd met her. He thought everything could be quantified. Within days of her planting a fat snog on his wobbling, alarmed lips, his Theory of Everything was blown out of the water. His opinion of his intellect, honed over years of study and bolstered by the accolades of fellow academics, vanished like autumn leaves down a gutter. At the time, he hadn't minded. Lena was his creation. He'd spotted her in the very first term; a confident, personable young woman, flighty perhaps, and prone to esoteric reasoning, but an undeniably gifted student. He nurtured her talent, watched her grow. It was normal, he told himself, for the pupil to eventually outshine the master. That was the way of progress. There was, however, no 'eventually' about this.
"You've hitched your wagon to a star there," a colleague muttered to him after a particularly loquacious evening faculty meeting. "Beauty and brains, eh, Robert? Lucky dog..."
Robert chewed on the implications of the colleague's words for many nights afterwards, while the 'star' squatted his living room, cackling at X-Factor and scribbling equations between text messages laden with exclamation marks. He couldn't understand how she lived in two such dimensions, functioning efficiently in both. He'd worked for all this, really worked. When he realised it came so naturally to Lena, and understood what his colleague meant, he felt something he'd never experienced before, something so powerful it made him want to smash himself in the mouth. There was always inter-faculty rivalry, yes, but nothing so raw and overpowering as this; pure, naked envy, combined with overpowering protectiveness towards her. Suddenly, he hated everything he'd ever been taught. It was sheer nonsense. All his life he'd been pushed and pressured to achieve. Like an automaton, he'd responded. And here was Lena, watching idiot TV while working on ground-breaking models of anthropogenic climate change. He'd previously assumed 'fair' and 'unfair' to be distinctly non-scientific concepts. Now he knew he was wrong.
The snowball began to numb his palm. If he connected, how would she react? He'd hesitated long enough. Now! The missile left his hand, travelling at roughly the appropriate formulae for each component, describing the arc he'd modelled. It was almost the perfect throw. Even before it made contact, just below the shoulder blades and above the waist, he knew that it would. But how? Blind faith or physics? Or somewhere between the two?
"Oi!! Rob, you dickhead! You could've hit Emily." Quivering with shock, Lena brushed the splat off the back of her jacket.
"I wasn't aiming for Emily."
"Oh yeah? Who were you aiming for, then?" He noticed that the corner of her mouth was upturned. By a fraction of a millimetre, maybe, but he still noticed.
"I was aiming for you.....Snow Queen."
She hesitated for a nanosecond, staring at him. She smiled, parked the buggy under a tree and scooped an untidy pile of snow into both her arms.
'Right, you bastard.....' she said, advancing towards him.