The Machines of Power - Part 2 of 9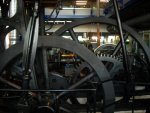 Sat, 27 Sep 2014
James drummed his fingers impatiently on the table and blinked at the security monitor, wishing he was better with computers.Cars?No problem.Machines of that ilk were easy; they spoke to him, but computers…
His computer!
Slapping himself on the forehead, James remembered what he needed to do.The face of the installer swam into focus in his mind's eye and he remembered being told that the monitors were for watching what was happening but if you wanted to watch footage from earlier in the day you had to go on your computer.James spun around in his chair and scooted himself towards his desk.He jabbed an impatient finger at the computer's power button and resumed drumming his fingers as he waited for the machine to whirr into life.As soon as the login screen popped into view he grabbed the mouse and clicked his account icon, noting how old his user picture was.Once in his desktop he scanned the icons listed down the left-hand side of the screen and there it was.The shortcut icon for the CCTV package that James had been promised would deliver peace of mind and heightened security.
Peace of mind.
He would give a piece of his mind to whoever had found a way into his company's car park.
Cheeky beggars, he thought grimly.
James double-clicked the icon for the CCTV software and watched in irritation as a splash screen emerged on his monitor.
Hurry up!
Finally the program was open and James began searching the menu for how to replay recorded footage.After a few moments and a couple of wrong turns, each accompanied by some swearing on James' part, he found the correct function.He brought up the camera feed for the car park and began to spool through the day's footage.He knew that the small card had not been on his car when he had left the house that morning.It had also not been there when he pulled into work.With eerie timing it seemed to have been put there after he had spoken to the man claiming to be his uncle Juniper.It could not be just a coincidence, not something that closely linked.
James continued to trawl through the day's footage of the car park but he could not see anything out of the ordinary.As he gazed fixedly at the computer monitor the picture suddenly turned to static.James blinked in surprise and quickly backtracked, wondering if he had definitely seen what he thought he had seen.
The picture had turned to static for a moment or two, resuming as if nothing had happened as quickly as it had arrived.James studied the static a few more times, growing more confused with each viewing.More details from his conversations with the people at the CCTV company were coming back to him now.One of the selling points of this system, he was told, was that the cameras would record continuously and only a loss of power to the building they were installed in would cause any camera to lose picture.James quickly checked the feed on the other cameras for the same timeframe and his growing sense of unease was ratcheted up a notch when he saw that all of the other cameras had remained on during the time that the car park camera went off.
What the hell is going on?
A thought struck James at that moment.He had surmised that the card must have been placed on his car after his conversation with the alleged Juniper Caplan.He quickly reached for his office phone and punched in the numbers to find out the time of the last call.He pulled a pad and pencil towards him as the robotic voice on the other end of the line droned the time when Juniper, if that is who it was, had phoned.James had not even finished writing down the time before he knew that the time of the call and the time of the camera going offline happened right after each other.James finished writing and he hung up the phone.He sat back in his chair and stared at nothing for a few moments.He tapped the end of the pencil against his chin thoughtfully as he mulled over all of the possible explanations for what was going on.None of them felt right.None of them felt feasible.
James reached into his trouser pocket and took out the small card.He stared at it with a furrowed brow, as if willing it to explain itself.He turned it over in his fingers a couple of times as he weighed up his options.James Caplan prided himself on being a reasonably practical man but this situation had him truly stumped.He let out a long breath as the creeping realisation that there really was nothing that he could do began to wash over him.His fist closed around the card as he came to a mental conclusion.
'Sod it,' he said, screwing up the card in his hand and throwing it dismissively into his waste paper basket.He closed down the CCTV program and shut off his computer.Taking one final glance at the security monitors he reasoned that if there was nothing he could then there was no point sitting in his office after hours like a lemon fretting over it.If this chap calling himself my uncle plans to get in touch, thought James as he turned off the light in his office, I'll be damned sure to get some proper answers out of him then.James locked up the garage, triple-checked everything and got into his car to drive home.He hoped that his birthday would push this strange experience out of his mind.
---
'Well?' said an urgent voice.
'Keep your hair on.I've spoken to him,' said a much calmer voice.
'And I'll be seeing him tomorrow.'
'Is he going to help us then?'The first voice had more than a tinge of desperation to it.'Because this can't wait much longer.'
'Simmer down, will you?I said I'd handle it and I am.'
'Look Grapeshot, I can't just drop it all on him at once, can I?I mean, bloody hell, I've not seen the lad in person for thirty flipping years!'
'I know, but…'
'Trust me; I know what I'm doing.It's his birthday tomorrow so I'll go and see him at his local.He's always in there come his birthday.I'll start the ball rolling proper like then.'
'Okay, good,' said Grapeshot, wringing his hands nervously.He attempted to smile but it came out more like a grimace.Juniper patted him on the shoulder.
'We'll get 'em back up and running,' he said, comfortingly.'You'll see.'
---
James' birthday did indeed find him in his local pub in the evening.He had spent a nice day off work with his wife Kathryn and daughter Lucy and now he was ordering the first of what he planned to be a few well-deserved birthday pints.He had managed to not think about the odd events of the previous day too much, but the thoughts concerning it were never very far away.Occasionally he found himself thinking about the phone call, the card, the CCTV footage, or all of them, but he was not about to mention any of this to Kathryn.He knew that he would get one of her looks and be told that he was being silly.As nothing else strange had happened since he left the garage the night before James was starting to hope that the phone call and card were someone's idea of a joke and the CCTV footage was just a glitch in the system.With this somewhat comforting thought he greeted the landlord of The Tap and Barrel.
'Evening, Bob,' he said cheerily.
'Evening, Jim,' replied the landlord.'And many happy returns of the day.'Bob placed a freshly pulled pint of James' favourite ale in front of him and flashed him a warm smile.
'Cheers,' said James, sounding pleasantly surprised.'You didn't have to.'
'I didn't,' said Bob, frowning ever so slightly.'Your mate got a round in just before you arrived.Took his drink and said to pour you one as soon as you arrived.'
'My mate?' said James, puzzled.He was sure that he would see some of his friends at the pub that night but he had made no specific plans to meet anyone there.'Who do you mean?'
'Short chap, said he was meeting you for a birthday drink.'Bob cast his eyes around the bar room for a second before continuing.'There he is, in the corner.'James followed Bob's gaze and almost dropped his drink when he caught sight of the man the landlord was indicating.
There was no denying it: the man sitting in the corner was his uncle.He was clearly older than James remembered him but it was him.James' mind was instantly thrown back to his childhood to when he had last properly interacted with his uncle.The small man in the corner looked up from his drink and inclined his head in a slight nod.James felt his throat go dry and with a trembling hand he took a sip of his drink, never taking his eyes off of the man who could only have been Juniper Caplan.James saw the little man indicate the empty seat next to him and raise his eyebrows questioningly.Feeling numb, as if his legs had turned to lead, James made his way over to the corner where the man was now smiling widely up at him.
'Jimmy!' he said as he patted the chair next to him.'Pull up a pew, my boy.'James swallowed and sat down clumsily next to Juniper, putting his drink down on the dark wooden table.As soon as James was settled Juniper raised his own glass in a toast.'Happy birthday!'
'Um…thank you,' said James, tentatively.He picked his glass back up to receive the toast and Juniper clinked his drink boisterously against James'.
'So, how the devil are you?' said Juniper after he had taken a generous swig of his drink.
'Confused,' said James with flat honesty.Juniper let out a peal of raucous laughter that caused some of the nearby patrons to look around to see what the joke was.It was a knowing laugh: a laugh that suggested things, not all of them clean.
'I'm sure you are,' said Juniper once he had stopped laughing.'That's why I'm here.'
'What, to confuse me more?' said James, frowning a little at his uncle.
Another bout of laughter shot through the bar room.For such a small man, James thought, his uncle certainly had a large laugh.He looked around.It sounded like he was telling Juniper the dirtiest of jokes.He felt his face grow a little hot with embarrassment.
'No Jimmy, no,' said Juniper, smiling.'I came here tonight to ask for your help.Come on, drink up.You'll need a couple more jars in you before the night's out, I'll wager.'James looked at his pint as if he was seeing it for the first time.He dutifully picked it up and took another gulp.He had been so sure yesterday that if he did come face to face with his supposed uncle that he would have a laundry list of questions to hurl at him.However, now he sat faced with the man himself he was at a loss for words.He knew there were questions in his mind; all of them jostling and colliding inside his head, but he could not seem to grab hold of one to speak it.Feeling very conscious of how little he was saying he took another drink.As he pulled the glass away from his lips he looked down into its foamy depths and a question raced forward to the very forefront of his brain, elbowing all other thoughts out of the way in its wake.
'Hang on a minute,' he said, looking at his drink, then at Juniper and then at his drink again.'How did you know this was my local?And how did you know what I drink?'Juniper smiled broadly again.
'Like I said to you yesterday, Jimmy, I like to keep tabs on things.'
'Have you…have you been spying on me?'The last three words James spoke were delivered in a hissing whisper, as if the idea of his uncle effectively stalking him was too terrible a thought to comprehend.
'Not spying Jimmy, no,' said Juniper in a somewhat more serious tone.'More like… keeping an eye on you.'
'You are spying on me!'James' voice had risen along with his shock and anger at this thought and again patrons turned to look at the pair in the corner.
'Keep your voice down!' said Juniper in a far sterner tone than he had used so far.The old man looked about furtively before continuing.'Look, it's not just you, okay?'
'What do you mean it's not just me?'Juniper leaned forward in his chair and when he spoke it was almost in a whisper.
'I mean that you're not the only one who we keep tabs on.'
'We?' said James in puzzlement and surprise, his voice threatening to rise again.'What we?Who are you talking about?What the hell's going on?'Juniper looked about conspiratorially again as he waved his nephew into silence.
'Well what do you expect me to do?' asked James indignantly.'Take it all with a smile and a nod when I'm told that my uncle whom I thought was dead for the last three decades is actually alive and lurking in my sodding garden bushes!'James was practically shouting now and Juniper stopped trying to hush him into silence when Bob the landlord ambled over with a concerned look on his face.
'Everything alright, chaps?' he said, looking from James to Juniper.  Before James could answer Juniper cut in.
- July 2014
- To be continued