Features
Bee's Journey
Picks of the Month
Posted by Charlie Hughes on Fri, 20 May 2016
Three hundred, maybe four hundred, people have packed into this sweaty pub to see me.  I've been gigging all my life, but I've never had a crowd like this.  Finally, I've found an audience that gets me. 
 
I'm sat on a stool singing, 'Isobel', strumming my battered Gibson, arched over the guitar, mouth reaching for the mircophone. 
 

Read more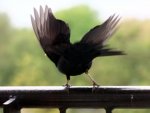 Posted by Bear on Mon, 02 May 2016
A soft 'whump' or thwump'...
Read more
View all Picks of the Month