The Investing Game
 $5K - 52 Weeks - 20 Penny Stocks
One Winner!!
 Current Status (-$2,047.60)
Week - 11
Fire!
Our Window to the Past!
I sat in the backyard with a beverage this past week. The wife and I are renovating a bedroom in our home. Took down a half ton of plaster from the walls, then began the process of removing the exposed wooden lath. Most of which will go out with the other trash later in the week. Some scraps however made for a cheery blaze and rekindled a ritual in which I always feel a strong ancestral connection.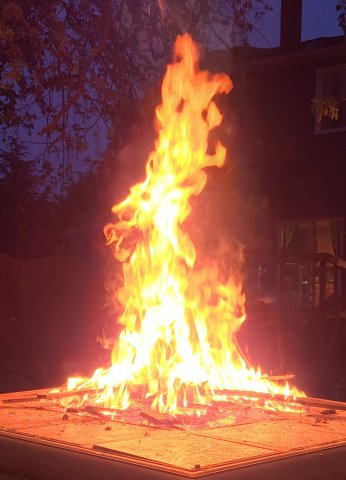 So there's a duck clearly visible about half way up on the left. He's facing down and obviously smiling. There is also a little guy with a barbecue utensil in his hand on the lower right. The top is tricky! It could be a guy singing holding the sheet music in his hands. 
Point the first, everyone will see something different if they look for it. Point the second, this is just a snapshot. An image captured in a single frame of an infinitely variable unique event. Point the third, if you sit quietly for a bit, perhaps sipping a liquid, and let the experience happen, you see ducks! The visions which appear and flicker away to be replaced in the next instant begin to tell their own story. 
It is a story of energy and control. A human, almost identical to myself and everyone else once sat, as I do, and allowed their mind to become, not unhinged but unencumbered, allowed the vision of the flame tell it's own story. How long ago was that? How far back in time would you need to go to find that first hand made fire? We know there were rudimentary civilizations fifty thousand years ago. Deliberate control over this energy source must have occurred much earlier. It's possible, perhaps likely, in my mind that I could go back as much as a million years and find another recognizable human doing exactly what I do now with essentially the same available resources. I use a butane lighter to spark it up myself, but just about everything after that remains unchanged. 
Use of and control of available energy sources is what got we wild and crazy wonderful humans to this pinnacle of technological mastery. That mastery is what allows me to sit in the comfort of my backyard, with a beverage, as the glowing gas connects an interdimensional portal to my ancient ancestors. The flickering images are infinite, the fuel that provides them is not. All energy is finite. This is not to say there isn't quite a lot of it however whatever energy source you choose, even the sun, will eventually be depleted.  
How could they have possibly known where that first fire would lead? Can we now, in all our imaginary technical glory, really control our destiny? 
---------------------------------------------
Another small gain this week, now I'm feeling the heat! Two weeks in a row, can't beat that.. Mind Medicine made their uplist on Tuesday. This resulted in the anticipated surge in interest and price. Also anticipated was the slight pullback by the end of the week. I'm not the only one who recognizes the uniqueness of this situation. One pundit offered that they could be the Tesla of mental health treatment! That may be a little strong but I'm still going to keep a weather eye on the price and pick up a few more shares if it dips a little more. Uplists and IPO's tend to surge to a quick peak before dropping back down. Once the dust settles this one should be a solid play for years to come! 
I don't think I've mentioned DRAGANFLY INC (DFLYF) previously. They have a cool website worth taking a glance at and made a nice jump up three spots this week. I hope to see this company take off soon! 
Log in to post comments
140 reads