Features
Bee's Journey
Picks of the Month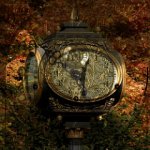 Posted by airyfairy on Mon, 27 Mar 2017
I lost my Mum last month. She was a funny and wise woman, and I wrote this last year after a conversation during which, for once, we really did agree on something.
Read more
Posted by celticman on Wed, 29 Mar 2017
Tony shares a room at the top of the stairs with Bruno. 'He's a bed-wetter,' whispers Julie. 'We may get him up during the night to take him to the toilet.' Small with chestnut-colour hair, Julie's pink top, opens at the neck with a glint of a gold crucifix, matches a tight skirt which hobbles her. She smells nice, likes to giggle, catches his shoulder as if to stop herself from falling.
Read more
View all Picks of the Month