Features
Bee's Journey
Picks of the Month
Posted by the-real-jaw on Fri, 18 Jan 2019
I unsolved a few mysteries
(a good night's work)
then strutted the morning streets
with a candle in my head,
half-believing that everyone was
watching me pass,
admiring my
lofty
burning
transcendental
eyes.
That lordly stride!
Those mystical lips!
The sky rolled its eye up over the avenue,
the city shuffled its deck of people,
Read more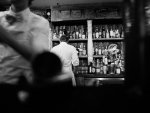 Posted by celticman on Sun, 20 Jan 2019
John was glad he hadn't stopped drinking, because otherwise it would have been a shame to waste the half-can of Pale Ale he poured on his Cornflakes. There had been a time when he'd thought hard about going on the wagon. When his wife, Effie, left him two, or more years ago.
Read more
View all Picks of the Month