Features
Bee's Journey
Picks of the Month
Posted by caribou_ on Sun, 16 Sep 2018
I want it to happen again

I want to wade right out 

Into the middle of your life ...
Read more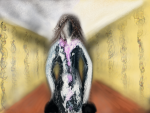 Posted by rosaliekempthorne on Sun, 30 Sep 2018
So, here I am.  Standing in this familiar hallway with a suitcase in each hand, wondering if I should be here at all.
Turn around and leave again?
I could.
I couldn't. 
Read more
View all Picks of the Month