Features
Bee's Journey
Picks of the Month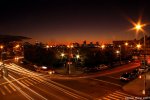 Posted by cliffordben502 on Mon, 28 Dec 2020
I am standing on the corner of Main and Second when I suddenly become self-conscious of my sweater.
Read more
Posted by MJG on Sat, 12 Dec 2020
No smile or words. Rigid, unyielding,
for that last photograph.
His arm, slack, around my shoulder. I turn from the shot.
Hide my tears, knowing he wants to be gone.
That final blurred image, shutting the car door.
I stumble through weeks of white-hot fury and freezing fear,
invent a radio-crackling theatre of desert and dazzling stars.
Read more
View all Picks of the Month