Features
Bee's Journey
Picks of the Month
Posted by maggyvaneijk on Mon, 26 Sep 2016
1.
The last man I loved
made me a dream catcher
of dental floss and blonde hair.
This is him, the last of him. We're driving
through a phlegmy drag of days. Stealing
rayon rose petals from damp motels
to stitch into his coat.
Pullover please.
He digs his fingers into my knee.
In the middle of a fake orgasm
I find myself
And I'm ugly.
Read more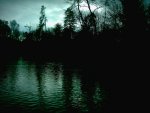 Posted by Stephen Thom on Wed, 21 Sep 2016
The headings are a nod to Iris Murdoch's 'The Sea, The Sea', a wonderful book :)
Read more
View all Picks of the Month