Features
Bee's Journey
Picks of the Month
Posted by Simon Barget on Thu, 28 Oct 2021
We lived together for what must have been ten years. I hardly knew him. That's not to say we didn't interact. He talked a lot. He talked about his problems, his difficult childhood, he went hell-for-leather into his family history.
Read more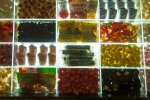 Posted by mcmanaman on Sat, 02 Oct 2021
which isn't going to help anything. Being sad is hard though
Robbie WIlliams will tell you all about that, and his dad
Peter, having to see his son go through so much fame
and addiction. It's a tricky bugger, sadness,
when it arrives like an uninvited guest, a suitcase
in their hand at your front door. 
Well I guess you're going to be staying a while,
Read more
View all Picks of the Month