The Investing Game
 $5K - 52 Weeks - 20 Penny Stocks
One Winner!!
 Current Status (-$3,377.97)
Week - 35
Things That Go Bump in My Head!
-------------
I wear a hard hat on the jobsite to avoid things that go bump on my head!
---------------------------------
Dirt. There is value in dirt. Someone once told me real estate is the only commodity no one is making more of! We may assume therefore that most things of value extracted from said real estate are equally bound by the immutable restrictions of finity! You know, the opposite of infinity.. "There is only so much oil in the ground", this lyric has been true from the day it was written. Tower of Power - 1975, good times, nice cars, the vigor of youth!. Iron, copper, potash, lithium. Buried under real estate, difficult to extract, and absolutely essential to the maintenance of our modern way of life, dirt is the essence of our existence. This is most certainly so as viewed from the perspective of securing stable investment vehicles.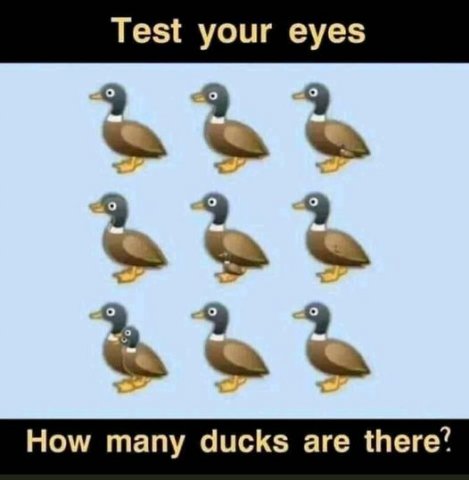 How many ducks are there? A quick glance says 9, closer examination notes a hidden extra smaller duck at the lower left, then a couple other even smaller ducks in other places. Clever, yes? No, not really but what if the ducks are actually a fractal and there are an infinite number of successively smaller and smaller ducks spiralling downward in size until reaching the physical limits of the dimensional world? What then, huh? This is what happens to the mind on vacation after two shots of Crown and a few beers, and it's glorious..
Consider a group of people lost in the woods at night. In this stressful situation some may panic and run blindly to the right while others may run to the left. Those who ran to the right may fall from an unseen precipice and be killed while those to the left fall into a river and drown. The ones who hunker down where they are and wait for dawn may appear to be doing nothing in the eyes of the ones who ran off but will discover the path to safety lies just a few meters ahead. The primal urge to "Do something" runs deep in our nature but is often the cause of increased suffering. The early bird may get the worm, yet it is the second mouse who obtains the cheese! 
The problem is we live in a world with far too much comfort and leisure time available. The result of this is we often have way too much time on our hands to worry about things that would not even come to mind in the harsh unforgiving environment of day to day survival. What we really need are more plagues, wars, famine, and natural disaster. Then everybody would be more focused on merely living to see another dawn and we would all be better off for it. The real problem of the moment is figuring out how to turn off "Ironic Mode" once it has been activated. There must be a switch or something around here somewhere.. 
-----------------------------------------------
There are a few notable notations to note for the week past. We have a new leader heading the pack! It seems the price of zinc is moving up and taking this company's share price along with it. A welcome development to be sure! While Solitario Zinc (XPL) may be last alphabetically in my list of twenty, this week they pull ahead of the other nineteen with an impressive ten percent plus leap. Go Dirt! Go Dirt! Go Dirt!! 
Losing ground on the week iQSTEL (IQST) showed the largest cash loss to drop two places into the the 4 spot as Natural Shrimp (SHMP) took on the larger percentage drop. As is often the case when looking a little deeper into one of these bargain stocks, iQSTEL has diversified business interests. Their most recent news debuts a new EV motorcycle targeted at the Latin American market. The 20 second promo video is supposed to tease I guess but really just fails to impress. Natural Shrimp is teasing me. I still think this is a solid opportunity. It's a good system with a lot of potential for growth.  
Recent NASDAQ uplist Draganfly had the best percentage gain of the week after posting news of a large contract. They will  supply, wait for it now, I'll have to quote this from the release, "design and develop an AI consumer companion robot drone." I have no idea what that might be and it frankly sounds a little scary. I do like seeing an almost 17 percent up tick on a position down more than 76 percent overall. No position movement, still nestled snugly in the 13 slot. Last week's micro penny of note (WHEN) also held its place while posting another decidedly positive week. I could still talk myself into taking a stronger position in this at some future point. I did reinforce my StrikeForce Technologies (SFOR) position this week to the tune of five thousand shares. I'll still keep track of just the original shares when posting current results here. 
A nice little gain for the week, can't complain about that. A week of sunshine and golf ahead is also infinitely uncomplainable! 
-----------------------------------------------
Log in to post comments
319 reads