Microfiction and Discovering Literature with the BL
This week I thought I'd share an addictive little competition being hosted by The César Egido Serrano Foundation. The Spanish Museum of Words is offering 20,000$ to the best 100 word story on any subject. The best part is there's no fee to enter – so if you took a cue from last week and have been practicing writing cell phone novels, this should be no problem. Have a look and give it a shot!
I also stumbled upon the British Library's new online collection of literature from the Romantic and Victorian periods, Discovering Literature. If you have a spare moment it's well worth a look. There's a section devoted to the rise of Gothic fiction and the supernatural (featuring pamphlets promising to teach you a 'Shilling's worth of Magic'  and the principles of Mesmerism); early vampire novels; the roots of crime fiction; and a series probing the depths of Victorian sexual repression (one 19th century medical text claims 'the majority of women (happily for them) are not very much troubled by sexual feelings of any kind'). There are other gems, too – manuscript pages and juvenilia from Jane Austen, the Brontë sisters, Keats, Wordsworth, and Blake, alongside an illustrated copy of Aesop's Fables by Charles H. Bennet  and Gustave Dore's illustrations of London :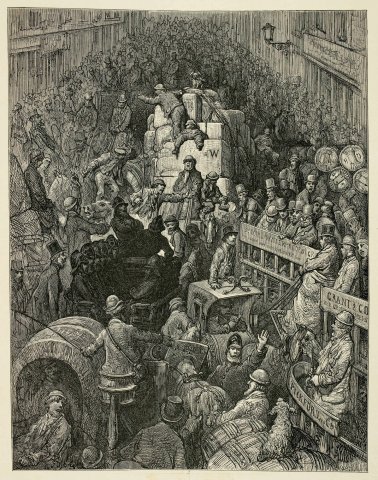 Doré's vision of London Life is this week's Inspiration Point
In ABC-news, an interview with Harriett Goodale, one of the authors of My Baby Shot Me Down has just gone up on the book's blog, so be sure to have a read of it. And there's just over a week left to submit to our competition '100 Years On', commemorating the centenary of World War One, so for those of you who haven't yet – get writing!
Poem of the week is Otto the Otters 'Citizen' – a piece that plays with form and injects something of the crime thriller into the lyric, and it's very finely written to boot. It's a portrait built out of an inventory of his personal effects (a kind of modern-day blason) from the mouth of a narrator who may or may not be an FBI agent.
And our story of the week is Markle's 'A Guide' – a touching homage to the teacher who introduced him to both writing and walking, passions which have lasted a lifetime. A meditation on the way young minds develop, and the powerful influence a teacher can have, as well as a descriptive account of some very memorable walking journeys.
Log in to post comments
1465 reads