Froch v Groves 2 ( The Fight)
Posted by jolono on Mon, 02 Jun 2014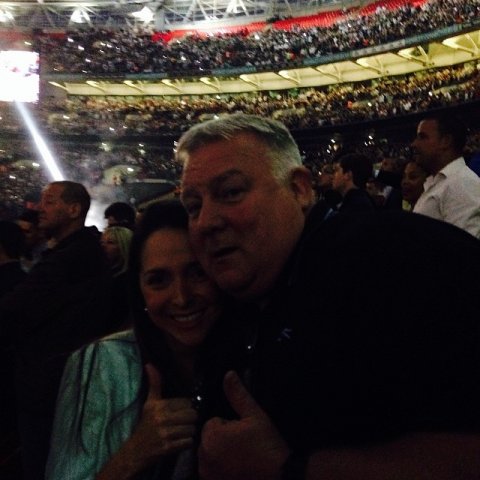 So, it happened! I had it spot on. I said it wouldn't go the distance, I said it would end before the ninth round, I said there would be a knockout in rounds 6 -9. So all good there then.
However, I picked the wrong fighter!
The undercard lived up to all its hype. All the british guys fought and won well.
At 22.00 the main event started. Groves came in to a fan fare of a tune I'd never heard before. But it was pumping and so was the stadium. Minutes before we'd all been treated to "A town called malice" and we sung our hearts out. Froch trumped this by having balls of flame shooting into the air and some kind of firework display. I was two hundred yards away yet still could feel the heat!
The nonsense stopped and the first bell rang. Froch took the centre of the ring, something he didn't do in the first fight. He was in control. The first four rounds were cagey. Both fighters respecting what the other could do and didn't want to take any chances.
Froch won the fifth. 
I had it even and maybe Froch one round in front.
Jim Watt ( wanker) from Sky had Froch winning almost every round.
Amir Khan was asked what he thought of the fight so far. He said that Groves was in front and commanding the fight!
Just goes to show how EVERYONE can see it diffrently.
Six was even and Groves won the seventh quite comfortably and hurt Froch with some great left hands.
Round eight and Groves was confident and carrying on from where he left off in round seven.
Then.... it happened. What can always happen when you haver two hard hitters. Froch feints with his left and then throws a right hand. It catches Groves on the chin just as he tries to get away from it. Too late. 
Speed, accuracy and power take control and Groves is out before he hits the floor.
The referee doesn't even try to make a count. He knows that Groves is gone. His left leg is underneath him and doing some kind of rain dance without him knowing it. His eyes are seeing something that not many of us will ever see ( thank god).
A full minute after the fight is stopped he still can't stand unaided.
But on another day it could have been a different story. But thats the beauty of the sport.
What was interesting was the after fight inteview with Froch. He kept saying that this may well be his last fight. How on earth could he top the biggest ever British fight of all time. Lets face it, he can't!
I was releived, thank god a fighter who knows when to call it a day. A time when he's the best there is, a day when he's won more money than most before him could ever dream of. Well done Karl.
Then I watched the interview the next morning when he said, "It would be great to fight one last fight in Vegas or New York where all the greats have fought"
Oh dear, really?
Degale? No way, cant happen. He'll swerve that fight and go for Julio Chavez in Vegas.
I wish him well. But sincerely hope he calls it a day...
Log in to post comments
588 reads