The Cheltenham Festival
Posted by jolono on Tue, 11 Mar 2014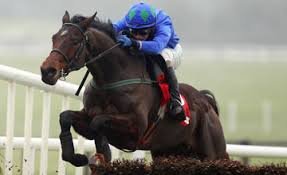 Something wonderful happens today. At thirty minutes past one this afternoon, a massive spine - tingling roar will be heard throughout the country. Yep, it's the start of the Cheltenham Festival.
Now I can hear some of you thinking, it's just horse racing, it's just another meeting, what's so important?
In the next few hundred words, I will do my best to explain.
Whatever sport you follow, there are always the big events. In Athletics you have the Olympics, in Rugby and Football you have the World Cup, in Cricket you have the Ashes, even Tiddlywinks has it's World Championships. Well, in Jump racing there's no Olympics, no World Cup, no World series.
We have our Cheltenham!
The competition is fierce. The Irish will be bringing over their best horses and expecting to go back with many an English scalp.
There are races for everyone. Experienced Horses, young Horses, Hurdles, Chases, Cross Country, short distances, long distances, there's even a Flat race called The Bumper.
Most people will have heard of Kauto Star, Denman, Best Mate, Desert Orchid and Arkle. All Cheltenham legends. All won the Gold Cup, which is a race run over 3 miles, jumping big fences at break-neck speed.
Every race is special. Take the Champion Hurdle race today. It's for horses over four years old. It's a Grade 1 race which means that all horses carry the same weight. The race is worth £400,000. One Horse stands out from the rest. Hurricane Fly. He's won 21 of his 24 races. He has won this race twice already, once in 2011 and again last year. He seems unbeatable. But he's ten years old now, surely he can't win this race at ten years of age? There are some younger horses queuing up to take his crown. My Tent Or Yours is a great young prospect, unbeaten this season, winning his races comfortably. He is ridden by Tony McCoy, the champion jockey, he's only six years old and in his prime. Then there's The New One, also six years of age, people in the know are saying this could be the one that takes the title from Hurricane Fly and then go on to be a great. Then there's the young pretender Our Conor. He won a race here last year and looked outstanding. He won it by 15 lengths. But he's coming back from an injury and he's half the age of Hurricane Fly!
And that's just one of the twenty seven races run over the next four days!
Someone said to me yesterday that Cheltenham isn't just a meeting, it's a way of life. I couldn't have put it better myself.
So if you can't get excited at the prospect of seeing relatively small men, guiding a ton of horse at speed over big fences and hearing the crowd roar as they cross the finish line, then please go back, log into facebook and tell everyone about the colour of the new pair of socks you've just bought….
Log in to post comments
893 reads