Mayweather v Pacquiao ( Part 3. The Deal)
Posted by jolono on Sat, 25 Apr 2015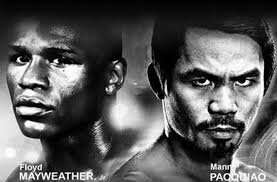 THE DEAL.
The contracts were signed just two days ago (23rd April) which meant that tickets could finally go on sale. The venue (MGM Grand) holds just under 17000. Yet only 1000 tickets went on sale to the public. They sold out in minutes. Priced between $1500 and $10,000. The other 16000 tickets were allocated to VIP's, Relatives of the fighters, Sponsors, Sports Teams and associations.
It would seem that Mayweather got what he wanted as far as the contract is concerned.
The fight is billed as Mayweather v Pacquiao. Mayweather will be last to enter the ring. He also has the choice of ring corner and locker room. He will take 60% of the purse.
Pacquiao wanted Texas (Dallas Cowboys Stadium) for the fight. Mayweather had no interest in fighting in Texas and demanded Las Vegas. So the fight was set up for the MGM Grand.
The drug testing that was the stumbling block last time has been resolved. Mayweather won. Pacquiao has agreed to United States Anti-Doping Agency (USADA) Olympic-style drug testing. This drug-testing program consists of both random blood and urine testing, with the fighters agreeing to let their whereabouts be known at all times during training so that random pre-fight testing can be administered. Both fighters will also be tested directly after the fight.
Mayweather Promotions will be the lead promoter over Top Rank (Pacquiao) Promotions. Mayweather will have the final say in event planning, from the press conferences to the in-arena entertainment.
So why would Pacquiao agree to ALL of Mayweather's demands? Quite simple really. Money.
Win lose or draw he'll earn more money from this fight than he could from facing ten other opponents. He's 36 and this maybe his last fight.
Mayweather is the favourite. He's unbeaten in 47 fights. Pacquiao has had 64 fights but has lost on five occasions.
This will give you an example of the difference between the two men.
Mayweather will be wearing a $25,000 mouthguard for the fight, incorporated with diamond dust, gold flakes, and a $100 bill cut-out. The mouthguard is designed and created by Dr. Lee Gause of New York.
Pacquiao's mouthguard is given to him as a gift from his Filipino dentist. It will incorporate the Filipino flag's colours: red, blue, yellow, and white.
Log in to post comments
872 reads