Literary Sneakers and our Latest London Get-Together
Next Wednesday is our London get-together - and I hope a lot of you will come out. It's shaping up to be one of the best we've had in a long while. There's nothing like long summer nights mixed with good literature, and on Wednesday we'll be featuring a long list of some of the best authors on the site – as well as a reading from Shaun Attwood, the very engaging (and entertaining) author of the books Party Time and Prison Time. We'll also be expanding on our traditional reading format  to celebrate the launch of My Baby Shot Me Down - our last set of readings will be a fast-paced round of readings from some of the authors in the anthology – it'll be talent in short powerful bursts.
While preparing my wardrobe for the evening (an editor has to look his best) I stumbled across some great news in the field of commodifying literature –New Balance is launching a new line of sneakers based on 'American authors and the stories they have told throughout history.' Why shell out millions to sports-stars when you can cash in on the great literature that's been out of copyright for centuries? Well, someone at New Balance is asking the right questions – because for only 300$ you'll soon be able to wear a pair of shoes 'inspired' by the most common themes in American literature – westward expansion and the roaring twenties in football-ready form. Somehow I can't imagine it, and unfortunately they're not on sale until July so I may have to hold off until our next event for a trial run.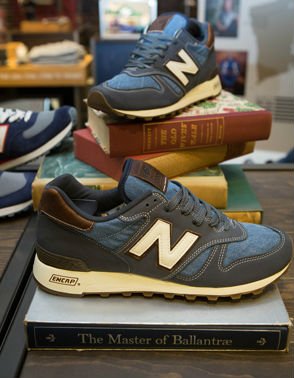 Yes that's Robert Louis Stephenson under that sneaker. Is this a hint at a Scottish line to come?
But sneakers or no the performace on ABC this past week has been outstanding. Our story of the week is one that snuck up on me, as I hadn't read it until today. Yume's After the Fight is short but captures an emotional moment perfectly. It starst After the fight - a slow-dissolving bitterness sets in, a gradual build-up of resentment, ended with the snap of a kind gesture. There's a whole life here, in these few lines.
Our poem of the week is just as good. Lemon Tarte's 'Nettles' is a nature poem from the startling perspective of the slow-crawling weeds as they choke their way through the undergrowth. More forceful and original writing from one of my favourite new poets on ABC, this one is filled with rich imagery like: 'We are too green, filled with the fertility of filth. / A massing army in the woodland glade'
Have a great weekend, and I'll hope to see you come Wednesday,
Luke
Log in to post comments
1579 reads