Braving Benidorm
I've just come back from Benidorm.
There, I've told the world and I don't care who knows it!
Benidorm has a particular place in the national psyche, it tends to be a useful shorthand for everything that it wrong about package holidays and, especially, the British holidaymaker.  It occupies the same place that Torremolinos used to hold in the 1960s.  I don't suppose the T.V. series of the same name has done much to change its image, either, although my knowledge of that is limited to watching one episode, which I found was sufficient.  Not being snobbish about it, because I know it is hugely popular, it's just not my thing.
All of which is rather unfair, because Benidorm has got a lot going for it.  The Levante and Poiniente beaches are huge, clean and very attractive.  The old town is charming and picturesque and there are a massive amount of places to eat, drink and be entertained, for all tastes and purses.  Also, it is not just a bolt-hole for package holiday Brits.  When we were there the British were easily matched, if not outnumbered, by retirement-age Spanish.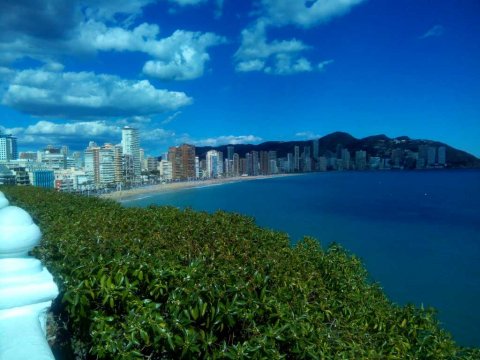 Nevertheless, you can't get away from the ubiquitousness of the all-male and, increasingly, all-female group there for a stag or hen weekend.  Some resorts seem to attract this phenomena and it's sometimes difficult to see why.  Blackpool is hardly a surprise, of course, but why Tenby, and even Whitby?  In my youth (which I'm prepared to admit, was a very long time ago, now) the tradition was for a stag or hen night which, at its most adventurous, might be in a different town.  Now it seems as if it must be at least a weekend and preferably longer.  This gives the definite impression that the preamble to the ceremony has become considerably more important than the life of marital bliss that is supposedly being entered into.
This phenomenon becomes more apparent at the weekend, I've discovered.  You become more and more aware of groups of girls, usually dressed similarly and often with sashes proclaiming the wearer to be part of 'Trace's Hen Do' or some such.  You're often surprised to find that the chunky girl at the head of the procession, carrying a six foot inflatable pink dildo and with the expression of a bulldog chewing a wasp, is also sporting a 'Bride To Be' t-shirt, which is somewhat straining credulity.  Despite the outward signs of frivolity, sashes, inflatable goods, fake tiaras and so on, it is often the case that none of the party look particularly happy, and that definitely applies to the putative Mrs. X.
The male version is not entirely dissimilar, although they mostly dispense with sashes and tiaras (but not necessarily).  The nod toward uniformity tends to be matching t-shirts with some sort of slogan such as 'Baz's Boys On Tour'.  The common denominator with these groups, apart from the pint of lager in a plastic glass usually held in the right hand like a sort of trophy, tends to be the walk.  I've studied this carefully and there seems to be some sort of rule that you should walk as if you had recently suffered a catastrophic rectal calamity and you're trying to keep as far away from the product of this as possible.  Of course, in some cases, this might be not too far away from the truth.
It has to be said that the Brits do not cover themselves in glory here.  I think it tells a story that all the warning posters displayed around the resort by the police, urging people to respect others, drink alcohol responsibly and so on, are only available in English.
You might think that I'm just an old kill-joy who wouldn't know how to enjoy himself it he tried, and you might have a point.  I have to admit to not behaving terribly responsibly on my first couple of visits to Spain in my teenage years (see 'Night Boat to Palma' and  'High Spirits')  
Oddly enough, the scene of my embarrassment that I depicted in the 'HIgh Spirits' article was replicated while I was in Benidorm, but fortunately not by me this time.  We had been having dinner in the hotel restaurant and some chaps who must have been approaching my age, if not actually overtaking it, were on the next table.  Shortly afterwards, as we were enjoying a quiet drink in the bar, I noticed this same group leaving the hotel, presumably to go 'on the town'.  This was about 21.45.  At 21.55 they came back in to the hotel, this time escorting another chap of a similar vintage.  He was quite obviously not feeling a lot of pain, had a glazed expression and a tendency to giggle.  They had to work hard to stop him diverting into the hotel bar and managed to get him into the lift.  It was pretty obvious that he had been enjoying a rather good night out.  
The following morning I was surprised to see him up and about and attempting a little breakfast.  I couldn't help but overhear his friends explaining to him what had happened the night before (which he clearly couldn't remember).  Apparently they had gone into their first bar of the night and had seen their friend in the distance, much the worse for wear and clearly in trouble, and had rescued him.  
I felt as if I had found a kindred spirit!
Log in to post comments
486 reads