Grave Expectations - the further misadventures of Josiah Oakshott and Archibald Thurble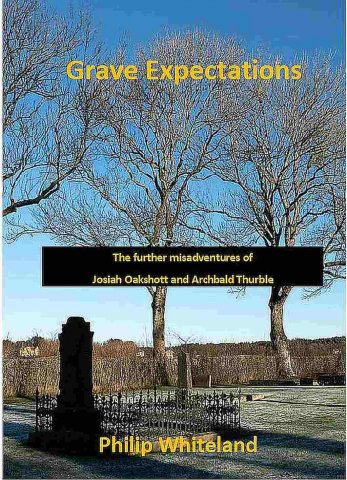 Thanks to ABCtales, I've been able to try out my short stories about my two undertakers, Josiah Oakshott and Archibald Thurble, over the past few months.  My thanks to all of you who have very kindly commented on the stories and have encouraged me to continue with them.  As the stories I've published so far this year link together quite nicely, and make a nice 'narrative arc', I've decided to group them together in a book (see above).  This will be published as a Kindle edition on Sunday, 30th August, 2020 but is available for pre-order now at the introductory price of just 99p!
This is the blurb for the book:  "The second book featuring Josiah and Archibald and this time all the stories are about their misadventures dealing with irate mourners, V.E. Day, social bubbles, unexpected musical tracks at cremations, the difficulties of 'staying alert', pub reopening, face masks, promotion, dismissal, pyres for Viking chieftains, the oedipus complex, feuding fiancees, personnel management and office romance. All this and the pandemic too!"
As I've said in the Introduction: "The stories that follow are, inevitably given the year of publication, rather coloured by the pandemic ongoing at the time.  Of course, widespread death and disease is something of a boon to a pair of Undertakers, so the opportunity for topical stories has arisen much more than it might have done in a normal year (if we ever have one of those again!)  Yes, the humour is slightly dark but I hope it is good-natured and I also hope that the warmth of these two characters shines through the darkness and brings a little light into our, sometimes gloomy, surroundings."
I hope that Josiah and Archibald get a little more exposure from this book as I rather think they deserve to be more widely known.  Have a look and see what you think.  After all, if the worst comes to the worst, you've only lost 99p

UPDATE
Now published and available!

Grave Expectations - the further misadventures of Josiah Oakshott and Archibald Thurble
Log in to post comments
845 reads