Into the Nightmare
Kind of a horror story... more or less....
"Nick!!!!" "I'm here! I'm right here!" Right here could be inches away, could be three corridors, six doors, and God only knows how many of them ...
Log in to post comments
322 reads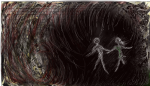 Her wrist. One of them tightening. The rest loosening. Aren't you done with me? Isn't it over? She felt the cold, the sharpness as she was pulled...
Log in to post comments
331 reads
The vines were more than underfoot now, they were ankle-deep, soaked, decaying. There was that vegetative death-smell all around. It was way too dark...
Log in to post comments
446 reads