'No Good Deed' By Ewan Lawrie. A Review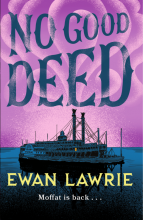 Very pleased to announce the publication of No Good Deed by ABCtales' very own Ewan Lawrie. With no preview copy, he kept us on tenterhooks to the last, so those of us who pre-ordered are mostly where Tony Cook is:
         'Ewan Lawrie's new book 'No Good Deed' arrived through my letter box yesterday. It's the follow up to the excellent Gibbous House, a Gothic romp of mind blowing proportions. I can't wait to get stuck into it to find out what Moffat does next.
Gibbous House was a real treat for lovers of 18th and 19th century gothic literature. It gave crafty winks to many an excellent tome from the like of Poe, Shelley  and Stoker. I suspect that No Good Deed will do the same thing for Twain and the Americana of its time. But don't feel intimidated by this - if you've never read any of them then just see the books as introductions to that style of writing - although it's far more accessible. 
What can you expect from a Ewan Lawrie book? A darn good laugh, a page turning adventure and characters that are larger than life. I do hope that you will give this one a go. I'm sure you won't be disappointed.'
Airyfairy, however, has earned Top Reader badge and offers us the following review:
Ten years after his ill-fated stay at Gibbous House, in the first of this series, we find Ewan Lawrie's murderously charming and ruthless anti-hero Alasdair Moffat loose on the Mississippi steamboats in 1861.  
            Some novels you read through for the purpose of finding out, at the end, who did what to whom. Then there are novels like this, where you savour each moment of the journey, each delightful linguistic twist and turn, and each picaresque character.  Some of these characters are (more or less) based on real people, and some of them are inventions with splendid names like Compair Lapin.  There is a theatrical troupe worthy of Dickens, a touch of voudou, and all the chancers and double-crossers you would expect to find gambling, sometimes for their lives, along the river.
            At the novel's core is the story of the Underground Railroad, the escape route for enslaved people in the American southern states.  Despite the humour and fantasy, Ewan doesn't shy away from the desperation and depravity of the time, and the title of the book indicates the complex motives of at least some of those involved.  No-one is who they seem to be; as one character remarks:  'We are what we do, are we not?'
            The river itself provides a mirror to these fluid identities, and to Moffat's lack of control over the currents of his own life.  Although less Gothic than its predecessor, this novel reintroduces us to some previous acquaintances, and drops some more tantalising clues as to Moffat's strange origins.  
            No Good Deed is what they call a rollicking read.  Sometimes you'll laugh out loud, sometimes you'll shiver. Above all, you'll want Mr Lawrie to get a move on with book number three.
Here's the link to order your copy:  https://tinyurl.com/y23abpf2
Log in to post comments
1197 reads