Froch v Groves 2
Posted by jolono on Mon, 26 May 2014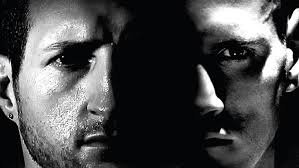 Less than a week to go till Froch / Groves 2.
I was there in Manchester for the first one and I'll be at Wembley on Saturday for the re-match. To say I'm looking forward to it would be a massive under-statement!
The hype is beginning to build. Every night this week there will a "behind the scenes" programme on Sky helping to increase the tension. Sky expect this to be their biggest pay per view boxing event EVER. It seems cheap to me at £17.
I know what you're thinking "Seventeen quid for a boxing match?"
Look at it this way. Coverage starts at 6pm with views and thoughts from both camps, expert analysis (well from some pundits anyway), then the undercard which includes our Olympic Gold medallist at Heavyweight, Anthony Joshua. 2008 Gold medallist James Degale fighting in an IBF eliminator bought. East Londoner and a man with something to prove Kevin Mitchell also fights in another IBF eliminator. And Jamie McDonnell fights for the vacant WBA Super Flyweight title. What a great showcase for British boxing.
Froch / Groves are scheduled to enter the ring around 10.30 ( ish). Whatever happens in that fight you are guaranteed over 5 hours of superb entertainment.
All that for just £17? Bargain….
Okay, let's look at the big one. Froch is odds on favourite at 4/6 and Groves 5/4. The bookies expect Froch to win in the latter rounds and especially in rounds 7-9. Not many expect it to go the distance.
I worry about Froch. Let me explain why.
There aren't many fighters that have a "war" every year and not suffer the consequences later on in their career.
Froch met Jean Pascal in 2008 for the vacant WBC Super Middleweight title. It was a twelve round brawl with both fighters taking big shots round after round. Froch won on points. In 2009 he met Jermaine Taylor in his first defence of the title. Taylor knocked him down in the third round but Froch got up to beat Taylor in the final round with just fourteen seconds to go. Another really hard fight. Six months later he fights Andre Dirrell and retains his World title, but it's another hard fought twelve round contest that he wins on points. In 2010 he takes on Mikkel Kessler and loses his title in a memorable twelve round battle. Seven months later he's back, fighting Arthur Abraham and wins after twelve rounds by a unanimous point's decision. In 2011 he fights Glen Johnson and wins another twelve round decision. The same year he faces Andre Ward, this time he loses after twelve gruelling rounds.
So in 36 months he's had seven hard fights, fought 84 gruelling rounds of boxing, been knocked down once, won five and lost two.
In 2012 he has two fights, winning both easily. 2013 sees the re-match with Mikkell Kessler. He wins by unanimous decision after ANOTHER twelve hard rounds. Six months later he takes on George Groves in what some are calling the best British boxing match of all time. He's knocked down in the first round and takes big shots in the next five rounds. He stops Groves in the ninth. After the fight he looks like he's been hit by a truck (but then so does Groves).
I know I've gone on a bit, but see where I'm coming from? Every fight is a war and at 36 Froch can't afford to have too many more. I wonder if Froch really wanted this re-match or was he lured in by the enormous amount of money on offer or the fact that the IBF ordered him to face Groves or lose his title?
Groves is only 26. He's had twenty professional fights and won nineteen. His only loss was to Froch last year and that ended controversially. Since 2011 he's had ten fights. Only two have gone the distance. In his last fight with Froch he proved that not only can he punch but he can take a punch as well. Up until that fight most people wondered how he would fare against "world class" opposition. Froch is most certainly world class yet Groves dominated the early rounds and was in front going into the ninth. Froch gave it everything in that round and caught Groves with some big shots. The ref stepped in and stopped the fight. Prematurely some (including me) would say.
So where do I stand?
Froch is the champion and deservedly so. He's faced the best and beaten them. But I can't help thinking that at 36 he might just have had his day. He knows that Groves has the power and speed to hurt him and that might just play on his mind. Groves is young, cocky and full of confidence after the first fight.
So I'm going for Groves within seven.
But then again, what the f..k do I know?
Log in to post comments
1722 reads