Excavatum
A Northern Folktale, 1953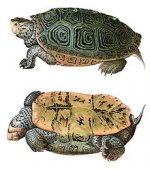 'Visualise those little hairs on your fingers quivering as a covert wind runs over them. It's the same wind in your mind making the terrapins drop...
Log in to post comments
1769 reads
Their nattering had gone on long enough. The wolf crooked its enormous head suddenly, and they ducked down lower behind the boulder. They quietly...
Log in to post comments
425 reads