Posting From Your Android Phone - Fixed!
Some of you have been having issues with posting your work using an android phone. Ewan and John our techie have been working really hard to fix this. We think it's an issue with your phone rather than the site, but Ewan has finally found a workaround for which we're very grateful!
Details below:
Open ABCTales as normal on your phone, via your browser.
(works for Firefox and Chrome) 
Log in 
Look for the three dots top right of the phone screen (chrome) bottom right (firefox), press once
Look for and tick the Desktop site box in the dropdown menu.
Do your stuff.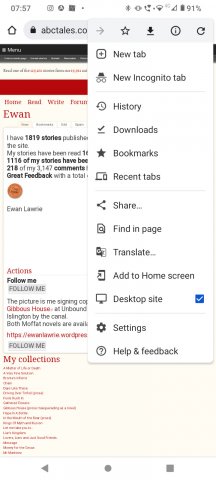 You may have to do it every time, I know it's a pain in the bum, but hey, at least you're posting… AND it's showing up. 
Plkease email me at claudine@abctales.com if you have any further issues. 
Log in to post comments
3014 reads