Jack and James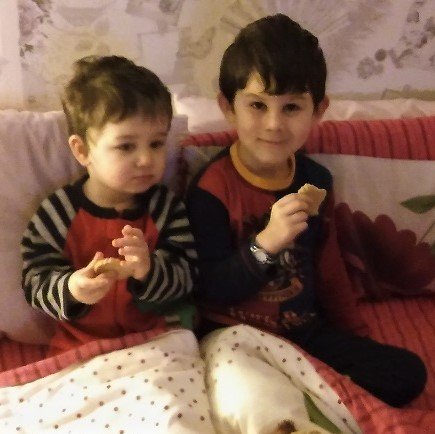 The photo was taken at 6.30am on New Year's Day. James (almost 2 years) and Jack (5 years) are having a sleepover and had taken over our bed… they wake up early regardless of whatever day of the year it is. We have a spare room which we've set up for grandkids, but they all invade our bedroom early mornings during sleepovers.
They are the children of our youngest daughter, Claire. Their dad, Mark, is in hospital for a couple of days having some tests carried out. He'd had a constant raging headache for about a week which concerned his GP, who'd arranged for him to be checked over at hospital. A brain scan showed no abnormalities and he's now waiting for a sample of spinal fluid to be taken for analysis. We offered to look after the boys for a few days, so Claire was free to go hither and thither as required. Mark seems comfortable and the NHS care he's getting is excellent.
The lads are very good… both well behaved, lively and intelligent… and as I say, very early risers. Jack has been a competent reader for a couple of years and has recently moved on to his first Harry Potter book. He's currently learning to play the piano, though hasn't started on his first symphony as yet. James is learning the fine arts of the okey-cokey and his 'put your left leg out' movement is considered to be world class. He does however get mixed up between his 'okey' and his 'ra ra ra' and it tends to come out as 'Oh, the okey-rokey-rokey'.
Log in to post comments
625 reads