Sketches
I frequently find myself writing two-handed sketches when I thought I was going to write a story.  These are some of those.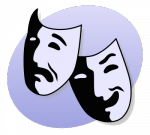 I don't know where this came from, or why! I just had this scene running around in my head and I had to do something with it. You may wish I hadn't.
Log in to post comments
822 reads
A schoolboy (apparently) finds himself in front of the Headmaster for taking that which does not belong to him...and giving it away, too! This is the sketch referred to in You've Got To Laugh, Haven't You?
Log in to post comments
936 reads