Travels with a blind brown bear
A collection of travelogues of journeys of a blind brown bear.
Blind Brown Bear was found at the intersection of Southampton Road and Christchurch Road in Ringwood in Hampshire. I will let him explain further:
Up until couple of days before I was found my longest journeys were from where I lived with a family in Ringwood into town.  My mode of transport was in a pushchair as the young child who loved and cuddled me was just a bit too young to walk.  One day we were on our way home andas usual I was held very tightly by my young child. I think she must have fallen asleep and loosened her hold on me. The next thing I can remember is being jolts out of the pushchair and on to the road.  It was very frightening as I am very small and the cars and trucks went by very quickly.  They were BIG!
One kind lady picked me up and placed me on a bollard on the traffic island.  Not very dignified but at least I was out of the way of those cars and lorries.  The lady probably placed me on the bollard in the hope that my owners would come back and find me to take me back home.
Two days I waited and no one came to reclaim me.  Then I was moved from the bollard in the centre of the road on to a fence post away from all the traffic.  It was there that I was found by my present owners called 'peeps'.  They cleand me up and ever since then I have been living in a laundry basket in the 'Peeps' bedroom.  Safe, warm, secure and always very cuddle able.
I didn't see the cars and other traffic go by when I was on the street in Ringwood because it was about that time that I lost my two eyes.
Although I cannot see I hope you enjoy my little travelogues which are based on the conversations Between Peeps that I can hear when they are near me.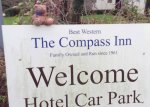 On Tuesday night the peeps stood at the bedroom window of The Royal Hotel in Ross-On-Wye. Earlier in the evening I had heard the rain but that had...
Log in to post comments
556 reads
I was put in my usual position on the back seat of the car for this new journey which started at about eight thirty. I knew it was then because on...
Log in to post comments
576 reads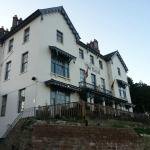 This week starting on Monday the 12th January 2015, was the first time ever ever that I had trvelled with my peeps. I was placed on the back seat of...
Log in to post comments
662 reads