My Baby Shot Me Down - An Anthology by Women Writers
Last week, Blinding Books (run by ABC's very own Richard Penny, aka Blighter's Rock) published an anthology by ten excellent women writers, many of them from ABC, called   My Baby Shot Me Down. It's quite easily the ABC publishing event of the year. No breakfast nook, den or garden is worth sitting in without a copy in your hands.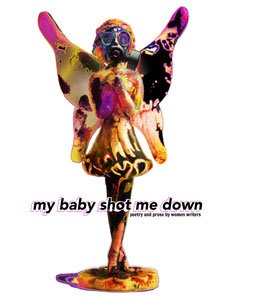 You'll find a lot of familiar names inside - the book features Clarissa Angus, Katherine Black, Maggy van Eijk, Harriet Goodale, Deborah Hambrook, Claudine Lazar, Rachael Smart, Ruth Starling, Alison Wassell and Laura Wilkinson. My Baby Shot Me Down puts the best work of these ten highly talented, highly distinctive authors right next to one another; stories and poems that bounce from one genre to another, each piece surprising, bold and inventive. 
But what should you expect from an all-women anthology? A celebration of female talent is long overdue, but though the authors of the collection are of one gender their themes are catholic. Expect perspicacious, unsettling analyses of everything from gender, identity, love and sexuality to violence, sex, politics and social mores. Action, suspense, humour and emotion in equal and abundant portions. There really is something for everyone in this collection - which is no light compliment. Here's a Herculean labour accomplished with ease and grace.
Luckily, Blinding Books is also featuring a series of interviews with the authors - their first, on Ruth Starling (or Canonette as we know her here on ABC) is available on the My Baby Shot Me Down blog. Have a look, and be sure to bookmark the page as there's more to come.
Copies of My Baby Shot Me Down can be purchased directly from Blinding Books or from Amazon. Get one now!
Log in to post comments
6711 reads