ephraim crud
Primary tabs
My stories

before the mammoth's mammoth turd; before the tweet of some bald bird. before Neil Diamond tried to sing i've been coming ... ding-a-ling! before...
Log in to post comments
319 reads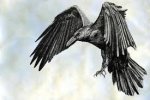 i'm as busy as the sizzle of a rasher squealing nostalgic smells into the me dreaming on some porcine aviation bringing home the backbone of let's...
Log in to post comments
3228 reads
i've got one in me back garden he sits in the middle of the dandelion bed with a fishing rod fuck knows why the nearest pond's three doors down at number seven i call him Dudley
Log in to post comments
1925 reads