where the raven flies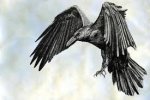 Tue, 14 Mar 2017
i'm as busy as the sizzle of a rasher
squealing nostalgic smells into the me
dreaming on some porcine aviation
bringing home the backbone of let's see
aching for a new found love like parents
throwing pots of clay to prove a point
crumbling the brickwork of their hardships
orphaning the offspring of a joint
adventure,  that it was when all were flowery
germinating me in wonder lust 
brought about by a bigot and his bombshells
disturbing homesteads full of factory dust
and homemade jams and gravy juice for nyloned
legs;  powdered eggs, make do and mend
to stitch and sink the atrocious aspirations
of a demon who was clearly round the bend
where all my hare-brained urges squat, delinquent
beyond the red flowers of the runner beans
where frogs break wind and croak, and coelesce
and polished shoe spit comes in magazines
for i'm as randy as a rabbit on viagra
as cocky as a ballcock at its peak
primed to unleash a small niagara
into a hole, if only she could speak.
within this psychedelic aerosol can
where echoes of the carpet crawlers creep
my syncopated glossy virgin giggles
and tangled houseflies buzz and spin to sleep
where jaycee plays at frisbee with his halo
venus de milo claps and lends a hand
to mrs jones attending burt's lumbago
thanksgiving mr marriott and his band
where hamlet has no mind as what's to be
or not, and ledger books and overdrafts 
go hang with bhang and alcopops and vodka
while mr barrett and his madcap laughs
and words to wonder weave their whereabouts
feint as a new moon in a summer sky
and, as good an egg as ever was, i feed
stale mackerel pate to my venus fly
yet i fear an end much as mr presley
wizen that he was on a commode
-a clay-like substance pressuring the bloodpump
urging the aorta to explode
while outside, far beyond the cobwebbed curtains
life's apace with commerce and its hiss
and those who make a tit out of a nipple.
what sadly toad would not be moved by this.
 
ephraim crud, COS.   2017