Frances Macaulay Forde
Primary tabs
I have 53 stories published in 10 collections on the site.
My stories have been read 53761 times and 16 of my stories have been cherry picked.
5 of my 231 comments have been voted Great Feedback with a total of 5 votes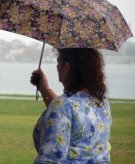 lives on the Sunset Coast of Australia and writes for page, stage and screen.
My stories
Red used to be my favourite colour. I'd just get Tinkerbell (my 1983 Mitsubishi Colt) cruising nicely at sixty kilometres an hour then red.
Log in to post comments
1376 reads
It was no good. Jessica couldn't stop herself. Her eyes scoured the room again - where was he? A gentle cough from somewhere high behind her, made her turn and bam! Their eyes locked.
Log in to post comments
1738 reads
1. She lay prostrate. Waiting. Will he stay a while when their beating hearts have calmed down? Never.
Log in to post comments
1282 reads
Pages