Frances Macaulay Forde
Primary tabs
I have 49 stories published in 10 collections on the site.
My stories have been read 40904 times and 13 of my stories have been cherry picked.
3 of my 216 comments have been voted Great Feedback with a total of 3 votes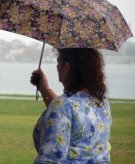 lives on the Sunset Coast of Australia and writes for page, stage and screen.
3 of my comments have received 3 Great Feedback votes
1 Vote
Loved it!
Posted on Thu, 22 Oct 2015
Such an achingly heart-full poem, full of warmth and memory utilising all the senses at once.  Love the journey, the lyrical approach and the final lines closing the circle of storytelling with a truth.  Love, love, loved it, Tina!   Thank you...
Read full comment
Posted in 'The Borrowers' (Poetry Monthly)
1 Vote
Wow!
Posted on Mon, 20 Jan 2014
Wow!  Such a beautifully wrought poem - the best I've read today and I have read quite a few in the last couple of hours... This is such a wonderful fascility to showcase talented but hitherto unknown (to me) writers.
Telling the story of...
Read full comment
Posted in As Autumn Leaves