My 1968 Notebook written in Africa
1968 - 1974 Teenage (apologies) angst, stories and poems written in or about my home of 25 years - Northern Rhodesia then Zambia, Africa.
Log in to post comments
1418 reads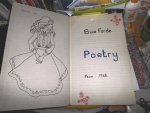 Yesterday, we met. For the first time, we actually spoke to each other. How long have we been together? And yet, yesterday was the first time we...
Log in to post comments
241 reads
Days gone by when safety wasn't an issue, I remember a little stream that beckoned a group of friends in Garneton. How many times did we saunter -...
Log in to post comments
1801 reads