Mac_Ashton
Primary tabs
I have 301 stories published in 10 collections on the site.
My stories have been read 61801 times and 157 of my stories have been cherry picked.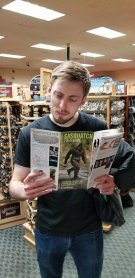 I am user researcher with Microsoft, but enjoy writing short stories and novels in what little spare time I have. Most of my work falls into the black humor category, so be warned! As always, I accept all criticism, additions, or angry mobs (that's happened one too many times), as each failure is a step on the way to becoming a better writer.
If you want to check out more of my work, check out my website: https://macashton.com/