Tom Brown
Primary tabs
I have 205 stories published in 21 collections on the site.
My stories have been read 162025 times and 9 of my stories have been cherry picked.
277 of my 2,052 comments have been voted Great Feedback with a total of 282 votes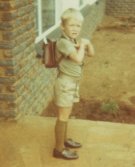 Apart from studies in the natural sciences I am interested in languages and literature in general as well as religion. Lately I have been writing more popular general interest essays and also trying for a bit of balance with mathematics and while keeping things understandable for most people.
I am South-African born and bred. At high school I excelled in science and mathematics competitions and completed two years of mechanical engineering with very good results. That didn't work out due to ill health. I have had permanent teaching positions at Unisa and at Wits.
Graduating with an MSc under WK Bartoszek (Unisa 1997) and a PhD under N Sauer (Pretoria 2006) formal interests would be in abstract analysis: Markov operators and stochastic processes; vector valued Laplace transforms applied to semigroups and families of evolution equations (empathies). It has now been quite a while since I was academically active I don't have much published. The way things have developed was beyond my control and I am very isolated.
Favourite authors are Jules Verne, HG Wells and Jack London, Shakespeare and poets William Blake and Dylan Thomas. I like adventure, science fiction and fantasy movies my all time greatest are the Narnia stories and the Lord of the Rings.
The meal best enjoyed is a breakfast of bacon eggs on toast fried chips with fresh orange juice, and for supper an ox-tail stew. I like eating out romantic. For recreation nature hikes, camping and fishing, listening to good music and reading, classics mostly, and good movies. I love dogs my best one was a Maltese poodle Freddy. I love rain and lightning thunderstorms and rainbows. As well as writing and publishing here on Abctales.
God is in the details. God is in the timing.