Tom Brown
Primary tabs
I have 180 stories published in 20 collections on the site.
My stories have been read 130797 times and 9 of my stories have been cherry picked.
224 of my 1,794 comments have been voted Great Feedback with a total of 228 votes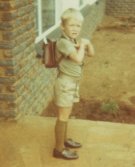 Apart from studies in the natural sciences I am interested in languages and literature in general as well as religion. Lately I have been writing more popular general interest essays and also trying for a bit of balance with mathematics and while keeping things understandable for most people.
I am South-African born and bred. At high school I excelled in science and mathematics competitions and completed two years of mechanical engineering with very good results. That didn't work out due to ill health. I have had permanent teaching positions at Unisa and at Wits.
Graduating with an MSc under WK Bartoszek (Unisa 1997) and a PhD under N Sauer (Pretoria 2006) formal interests would be in abstract analysis: Markov operators and stochastic processes; vector valued Laplace transforms applied to semigroups and families of evolution equations (empathies). It has now been quite a while since I was academically active I don't have much published. The way things have developed was beyond my control and I am very isolated.
Favourite authors are Jules Verne, HG Wells and Jack London, Shakespeare and poets William Blake and Dylan Thomas. I like adventure, science fiction and fantasy movies my all time greatest are the Narnia stories and the Lord of the Rings.
The meal best enjoyed is a breakfast of bacon eggs on toast fried chips with fresh orange juice, and for supper an ox-tail stew. I like eating out romantic. For recreation nature hikes, camping and fishing, listening to good music and reading, classics mostly, and good movies. I love dogs my best one was a Maltese poodle Freddy. I love rain and lightning thunderstorms and rainbows. As well as writing and publishing here on Abctales.
God is in the details. God is in the timing.
224 of my comments have received 228 Great Feedback votes
2 Votes
Sorry Di I honestly did not mean
Posted on Sun, 06 Feb 2022
Sorry Di I honestly did not mean to criticise your work at all and I don't recall that I ever have. It is a great poem. But please keep in mind any good teacher knows one often learns more from your mistakes and by the way I'm also out of a job....
Read full comment
Posted in February Rainbow
2 Votes
Yes
Posted on Tue, 14 Sep 2021
Yes. Beautiful ending, man's best friend. Heartbreaking sometimes we feel a duty for mourning. And indeed, it is much more noble to live for someone than to die for someone, sometimes living takes great courage.
Keep well Paul! Tom
Read full comment
Posted in With or Without You
2 Votes
No doubt inspired
Posted on Mon, 16 Mar 2020
No doubt inspired by Jules Verne's classic scifi novel 20,000 leagues under the sea. Also makes one think of Jacques C. and the research ship the Calypso.
Good work, original too! We are in, looking out, man and fish roles reversed! Who's...
Read full comment
Posted in Here Be Dragons
1 Vote
Smoke cloud hanging
Posted on Mon, 02 May 2022
Smoke cloud hanging yes we must have that atmosphere but now it's illegal whatever happened to freedom of association?
Good work Jenny I never took you one for Jazz! They always teach Classical music at university and Jazz. Nothing else....
Read full comment
Posted in Trail Of Thought
1 Vote
This is lovely Jenny
Posted on Thu, 21 Apr 2022
This is lovely Jenny, so peaceful and serene it must be wonderful as you descibe it here.
All the best, keep well! Tom
Read full comment
Posted in Imagine Focusing
1 Vote
This is a very common experience
Posted on Fri, 18 Mar 2022
This is a very common experience there even is a name for it: Post Dissertation Depression. It is when some kind of really large work is done and finished. A big project done. Could be almost anything. A feeling of emptiness, looking back perhaps...
Read full comment
Posted in Salad Day I Suppose
Pages