Tom Brown
Primary tabs
I have 182 stories published in 20 collections on the site.
My stories have been read 135962 times and 9 of my stories have been cherry picked.
228 of my 1,818 comments have been voted Great Feedback with a total of 233 votes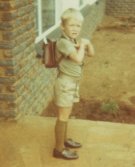 Apart from studies in the natural sciences I am interested in languages and literature in general as well as religion. Lately I have been writing more popular general interest essays and also trying for a bit of balance with mathematics and while keeping things understandable for most people.
I am South-African born and bred. At high school I excelled in science and mathematics competitions and completed two years of mechanical engineering with very good results. That didn't work out due to ill health. I have had permanent teaching positions at Unisa and at Wits.
Graduating with an MSc under WK Bartoszek (Unisa 1997) and a PhD under N Sauer (Pretoria 2006) formal interests would be in abstract analysis: Markov operators and stochastic processes; vector valued Laplace transforms applied to semigroups and families of evolution equations (empathies). It has now been quite a while since I was academically active I don't have much published. The way things have developed was beyond my control and I am very isolated.
Favourite authors are Jules Verne, HG Wells and Jack London, Shakespeare and poets William Blake and Dylan Thomas. I like adventure, science fiction and fantasy movies my all time greatest are the Narnia stories and the Lord of the Rings.
The meal best enjoyed is a breakfast of bacon eggs on toast fried chips with fresh orange juice, and for supper an ox-tail stew. I like eating out romantic. For recreation nature hikes, camping and fishing, listening to good music and reading, classics mostly, and good movies. I love dogs my best one was a Maltese poodle Freddy. I love rain and lightning thunderstorms and rainbows. As well as writing and publishing here on Abctales.
God is in the details. God is in the timing.
228 of my comments have received 233 Great Feedback votes
1 Vote
Beautiful descriptions Marcia
Posted on Tue, 15 Jun 2021
Beautiful descriptions Marcia dramatic hey? Good. You clearly know something about geology. You appear certainly a very unique and interesting person. Cherries!
Keep at it I enjoy reading your work! Tom Brown
Read full comment
Posted in stuff of life ip
1 Vote
Peanut butter
Posted on Sat, 24 Jul 2021
Peanut butter. Black belt? No! Black Cat! Great advertisement. Nice picture, chocolate icing or black cat? By the way what is IKEA?
Keep well! Tom Brown
Read full comment
1 Vote
A jet black cat
Posted on Thu, 17 Jun 2021
A jet black cat with burning green eyes. You paint a haunting picture, jealousy makes you nasty.
Tom
Read full comment
Posted in "Willow's Tail" 11
1 Vote
Good style Niamh
Posted on Wed, 16 Jun 2021
Good style Niamh and with you one never knows what is truth and what is fiction, very well written I would say. You've had me fooled more than once.
Yes very convincing. Very realistic. Keep well! Tom Brown
Read full comment
Posted in Little Miracles
1 Vote
Very good, I always think of Dylan
Posted on Sat, 05 Jun 2021
Very good, I always think of Dylan Thomas, do not go gentle into that good night, rage rage against the dying of the light.
But I like yours much more, peaceful, in general much more healthy I would say.
"The candle will stay cold...
Read full comment
Posted in On The Death Of A Friend This Afternoon
1 Vote
Sobering, yes I also
Posted on Mon, 31 May 2021
Sobering, yes I also had a friend or two like that, a friend in need is a friend indeed. Your story is actually very good, overcoming adversity people can learn from you from me too. Also the social part always on the borders never really...
Read full comment
Posted in Conformity
1 Vote
scooters
Posted on Thu, 15 Apr 2021
Only those youths on small motorbikes make such a noise I can't sleep they don't care for curfew. No peace for the wicked. Daddy pays for the scooter who rides who wins!
Cheers Brother! Tom Brown
Read full comment
Posted in The Coming Battle
1 Vote
Albert Einstein said knowledge
Posted on Sat, 01 May 2021
Albert Einstein said knowledge can take you anywhere in this world. And imagination can take you anywhere.
Good poem Rhiannnon very well written! Tom Brown
Read full comment
Posted in Roaming the world, and beyond
1 Vote
Sounds wonderful Paul
Posted on Tue, 27 Apr 2021
Sounds wonderful Paul I wonder if we'll see the day! The immediate future is much more bleak but more sure. Closer to home.
The Moon, in her pale desolate beauty, cold and dead, that is very close hold your breath, a colony on the moon....
Read full comment
Posted in Footsteps on Mars
Pages