Tom Brown
Primary tabs
I have 182 stories published in 20 collections on the site.
My stories have been read 136031 times and 9 of my stories have been cherry picked.
228 of my 1,818 comments have been voted Great Feedback with a total of 233 votes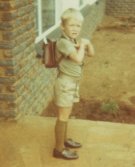 Apart from studies in the natural sciences I am interested in languages and literature in general as well as religion. Lately I have been writing more popular general interest essays and also trying for a bit of balance with mathematics and while keeping things understandable for most people.
I am South-African born and bred. At high school I excelled in science and mathematics competitions and completed two years of mechanical engineering with very good results. That didn't work out due to ill health. I have had permanent teaching positions at Unisa and at Wits.
Graduating with an MSc under WK Bartoszek (Unisa 1997) and a PhD under N Sauer (Pretoria 2006) formal interests would be in abstract analysis: Markov operators and stochastic processes; vector valued Laplace transforms applied to semigroups and families of evolution equations (empathies). It has now been quite a while since I was academically active I don't have much published. The way things have developed was beyond my control and I am very isolated.
Favourite authors are Jules Verne, HG Wells and Jack London, Shakespeare and poets William Blake and Dylan Thomas. I like adventure, science fiction and fantasy movies my all time greatest are the Narnia stories and the Lord of the Rings.
The meal best enjoyed is a breakfast of bacon eggs on toast fried chips with fresh orange juice, and for supper an ox-tail stew. I like eating out romantic. For recreation nature hikes, camping and fishing, listening to good music and reading, classics mostly, and good movies. I love dogs my best one was a Maltese poodle Freddy. I love rain and lightning thunderstorms and rainbows. As well as writing and publishing here on Abctales.
God is in the details. God is in the timing.
228 of my comments have received 233 Great Feedback votes
1 Vote
Beautiful! "the story about the thief
Posted on Mon, 20 Sep 2021
Beautiful! "the story about the thief who went into the black market and sold a stolen cubic zirconia ring for 20 grand only to find out that the money was counterfeit....not only was the money counterfeit but he had been short'changed and only...
Read full comment
Posted in Marion the Librarian
1 Vote
Teaching Mathematics
Posted on Mon, 13 Sep 2021
Teaching Mathematics is an art but often thankless and unfulfilling. When the student fares poorly it is always the teacher's fault but when he does well the student is champion. I have taught at every level from primary school up to post-...
Read full comment
Posted in The Maths Teacher
1 Vote
It is always a very good thing
Posted on Thu, 09 Sep 2021
It is always a very good thing to be able to see something from the other person's point of view also. Few people can really. One should try and practice it, I mean in general, any good teacher should have this kind of ability. To understand each...
Read full comment
Posted in A Winning Handshake
1 Vote
Terrible hey?
Posted on Sun, 29 Aug 2021
Terrible hey? And it is everyday reality. You capture the essence in just a few words.
Read full comment
Posted in flotsam and jetsam
1 Vote
Journey to the Center of the Earth
Posted on Tue, 15 Jun 2021
Journey to the Center of the Earth was a classic adventure scifi novel by Jules Verne. Brilliant but of course very far-fetched. Must be. The rather recent film in a modern setting I enjoyed a lot also, excellent. I find his story to be strangely...
Read full comment
Posted in stuff of life ip
1 Vote
The buzz of scooters sounds familiar
Posted on Mon, 16 Aug 2021
The buzz of scooters sounds familiar, be home before curfew the better part of valour is discretion.
Good! Never been to Itally myself they say it can get very hot there.
Keep well, all the best! Tom Brown
Read full comment
Posted in Naples: balcony overlooking Via Firenza
1 Vote
Great!
Posted on Mon, 09 Aug 2021
Great! Going for summer here too! And visiting again the happy places of your childhood it is past so quickly.
Must say it's a blessing to have such close cousins I've got dozens. One or two are very special. All of them are. Our parents...
Read full comment
Posted in Time's Travel
1 Vote
Excellent
Posted on Sun, 01 Aug 2021
Excellent. I also knew people who I later wished I spoke with that I could learn of them, but I did speak to the sandman for some times, on the beach. Wish I had spoken more with my father and my uncle and my grampa but as it is I had learnt a...
Read full comment
Posted in The Not-So Green Man
Pages